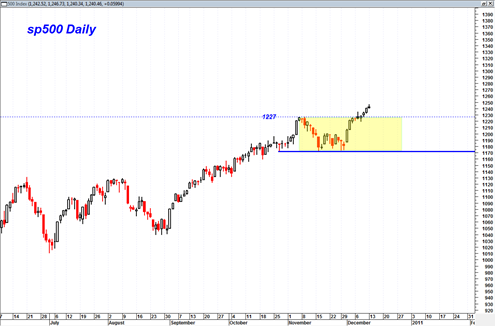 The sp500 continues to trickle higher into new ground.  I do not think that we can call today a shooting star reversal in the sp500 because the topping tail was very small on the candlestick today.  In addition, by the end of the day no retracement was done into the previous days candlestick.  Still, it was a reversal into end of day.
The relative strength index is coming close to the 70 range but has not broken through yet.  I have noticed that the 60 to 70 range for the market indices can be a typical topping point for the market, or at least a point where prices can start to move sideways and consolidate. The daily, weekly and monthly MACD are still in a bullish crossover stance, however the MACD histogram on a number of important indices (such as the Dow Transports and Nasdaq 100 Index) are currently showing an unconfirmed bearish triple M pattern.  This could mean the start of some type of corrective phase this week.
1227 remains the key level right now as the top of the recent trading range.  I think a long bias is appropriate above this level.  But anything below could start to raise some red flags.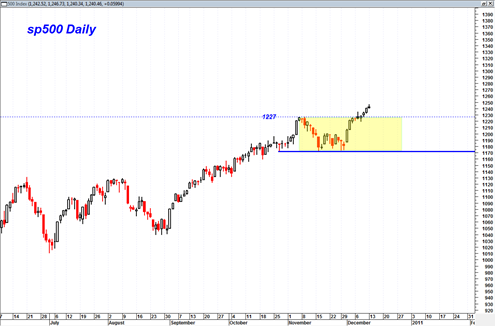 Ideally for the bullish case we would see price start to retrace slightly back down to the 1227 level and then reject it in the form of a Wyckoff retest.
I do not see any point in switching to a BOT short signal at this point, however if and when we fail to hold 1227 I might have to reconsider.