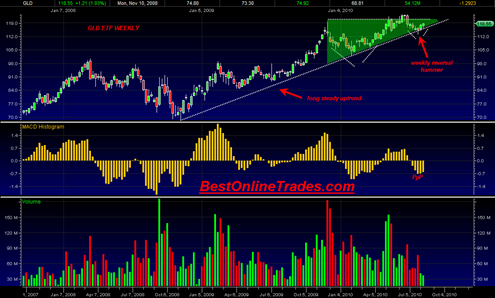 The SPDR Gold Trust (ETF) appears to be close to a weekly confirmed MACD histogram buy signal.  The GLD ETF needs to get a weekly close tomorrow above 118.42.  Currently it is trading at 118.56.
A confirmed weekly buy signal on the MACD histogram tomorrow would in our view be very significant as we are just 2 weeks away from the seasonally very powerful month of September for the gold market.
The weekly chart also shows a weekly reversal hammer of 2 weeks ago in which the trading low of that week tested the neckline of the previous head and shoulders bottoming formation.
The SPDR Gold Trust (ETF) also shows that it was able to crawl back above topside above the longer term up trendline.  This recent move appears to be creating a handle of yet another cup and handle formation which the gold market has been quite famous for time and time again.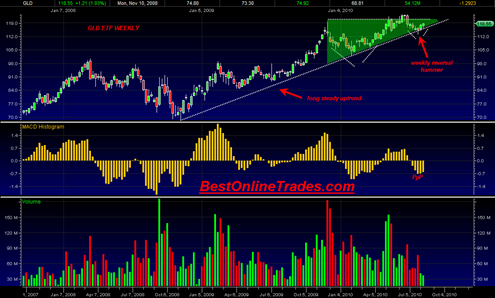 One could also argue that the recent 8 to 9 month consolidation resembles that of an ascending triangle formation but is also a cup and handle pattern contained within it.
The daily chart of the GLD shows that today's action pushed the RSI above the 50 mid range level in an indication that gold wants to do an A B C up move.  It is very significant that the GLD managed to push higher today with the RSI sitting right near the 50 mid range.  If more bearish tendencies were present, one would have expected a big break down today right at the RSI 50 mid line level.
Gold Bulls should hope for a weekly close tomorrow on the GLD above 118.42.  It appears that once again the gold market has survived the beatings and the doubts of bearish sentiment.  It is still too early for full confirmation, but early appearances are that gold is going to initiate yet another massive topside breakout in the months ahead.
If the gold price manages to break out topside in the months ahead, then it would probably also help to initiate a massive topside breakout in the Market Vectors Gold Miners ETF.   This could have a dramatic effect on many mining stocks all the way along the food chain from small cap to large cap.  I wrote about the GDX Market Vectors Gold Miners ETF a few days ago…