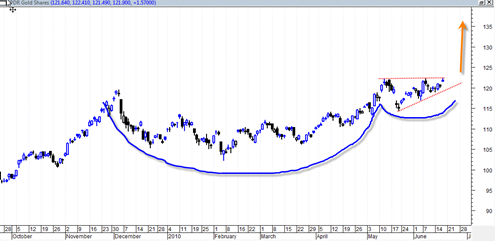 The SPDR Gold Trust GLD ETF looks like it is just about ready for another big move.  Some time ago I did a post on why I thought it was prudent to be cautious on gold because there was at least the potential of a bearish weekly divergence developing.
That bearish divergence has failed to play out.  And now the gold market finds itself in a position where the daily MACD is just about to turn bullish and the gold price is compressed into an ascending triangle.  In addition the weekly chart and the monthly chart still look bullish. 
So I have to tip my hat to the bulls here.  The monthly RSI is right into the powerzone and has plenty of room for upside expansion.
As long as the GLD maintains the current supporting ascending triangle structure I think you have to be open to huge upside moves.
If we see any closing prices below 120 in the week ahead then it would change the near term very bullish outlook and could completely reverse my opinion.  But for now I have to say the GLD has everything going for it to the upside and actually an entry right near these levels with a protective stop at 119 seems like an outstanding risk/reward.
I have to say also it is quite interesting how the SPDR Gold Trust (ETF) is setup right now chart wise given the current structure of the stock market.
If you have been reading recent posts here you will know that I have been looking for another big decline leg in the equity markets.  So if you take a close look at the gold market right now it would seem that a huge upside breakout in gold would correlate with some type of panic in the equity markets ?  I suspect that is what will happen.  Most of the times in the past big moves up in gold brought the equity market right up along with it, but this time I suspect there will be an inverse relationship.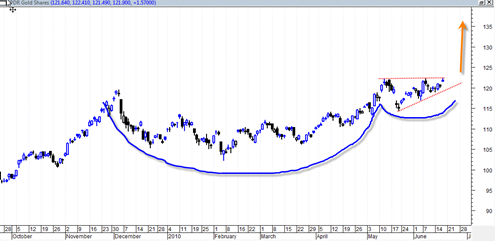 There have been a lot of people looking to short gold at these levels and others have abandoned this market on the premise that it has been going up too long (almost 10 years now ?).  The risk definitely exists that the gold market will eventually transfer into a 2 to 3 year bear market, but my take is that it may have just a little bit of juice left in it for a final upside blowoff, perhaps in the 1400 to 1800 range.