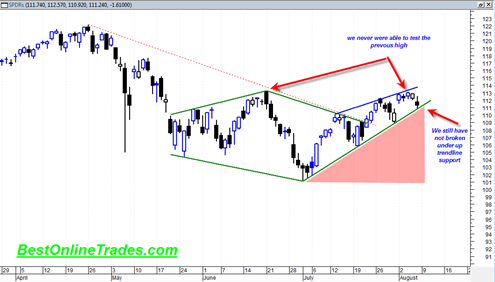 The SPDR S&P 500 ETF today so far at the trading day mid point is decline on what I consider to be very heavy volume for a Friday and also in early August.  By 12:45 PM eastern time volume looks to be close to 140 million on the SPY.  If we double that we come at a projected target of 280 million shares for the full day.
It remains to be seen what the final trading volume will be by the close, but this heavy downside volume and super light upside volume is a pattern that has been repeated time and time again in this so far 'mini bear market'.
The very light upside volumes into the peak of the rising wedge formation I talked about yesterday is a concern and consistent with the structure of the rising wedge.
Break downs from rising wedges can be swift and occur with a big surge in volume.  Todays substantial increase in downside volume is a hint that we are about to break down from this rising wedge in the SPDR S&P 500 ETF.
The MACD histogram and the MACD are signaling that a bearish downside cross could occur next week coupled with a break down below the bottom supporting line of the rising wedge formation.
I would be remiss if I did not once again mention the August 10 to 12 Astro cycle dates that have the potential to lead to very volatile market action.  The much touted Astro dates earlier this week did not seem to lead to anything unless you consider that they served as a topping or turning point for the market this last week.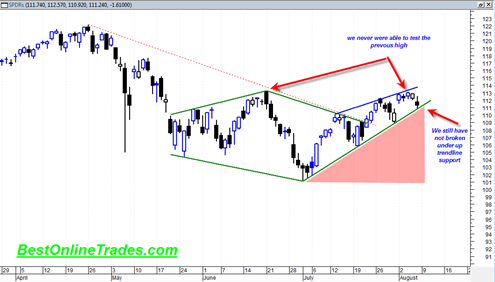 Looking at the chart above it is still quite clear that we have still not broken below the supporting green up trendline.  If we do so with volume to start next weeks trading then it could imply 105.82 as a first target on the SPY.  It could get there rather quickly if this wedge plays out consitently.
The 105 range is still quite a strong range of support and if we do drop down to that range I think one still has to assume that the market could bounce higher from that range at least for a few days.
It is amazing to me that the market has not managed to test the 6/21/2010 swing high either on the SPY or the sp500.  It came close within a few pennies but never actually got the job done.  This is sort of a problem because it would have been better to see an actual test of the 6/21/2010 swing high on much lighter volume and then a close below that high.  The fact that the market has not tested it and also not yet broken under the green supporting up trendline still leaves a little room for doubt about a big break down.
Still, I have to trust this rising wedge pattern which is near perfect in terms of structure and declining volume pattern within the rising wedge.
There is also a gap on 8/2/2010 on 188 million in volume on the SPY. Today we are pushing into that gap probably well north of 188 million which is a bearish volume relationship sign since gaps act like support and resistance and the volume comparisons into gaps reveal clues about the next direction.
The setup here looks like very significant volatility is about to hit the tape early next week.  Rising wedges can lead to very rapid break downs.  I would not be surprised to see a 500 point down day (in the DJIA) early next week.