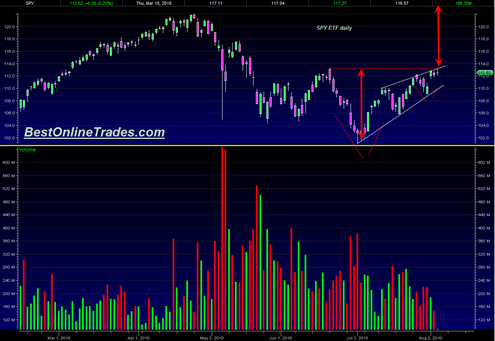 The SPDR S&P 500 ETF may have a shot at making it back up to the April 2010 highs if it can climb above key resistance late this week or early next week.  Key resistance on the SPDR S&P 500 ETF is 113.20
The pattern in the SPY since mid June is taking the shape of a cup and handle formation.  It is possible that we are about to start forming the handle by the end of this week.  The alternative scenario is that we do not form the handle at all and just power higher out of the rising wedge formation.
It would seem that this weeks employment report on Friday is going to decide the market direction.  My current take is that it will probably be bullish and lead to an upside breakout from the current pattern.  One could argue that a tight handle has already been formed starting on 7/27/2010.
The upside projection of this pattern if true is back up to the April 2010 highs.
On the weekly charts I am also seeing indications that the weekly macd wants to turn upwards for a bullish crossover, a bullish sign.
Volume on the SPY has dried up to almost nothing in recent days but it is worth mentioning that there are probably a very large amount of stop orders just above the 113.20, which if hit, could trigger a surge in upside volume (bears covering shorts and new longs jumping in speculating on new highs).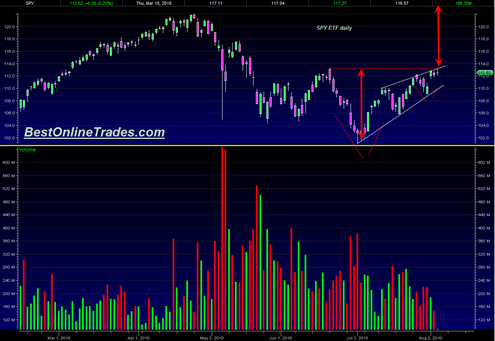 Despite the fact that the SPDR S&P 500 ETF has been trading in a messy trading range for several months, I have to say that the setup here is quite intriguing because we have a significant resistance level that if broken topside implies a move back to the old April 2010 highs.  If we fail here and break down into the end of this week then the first quidepost will be be support at the bottom supporting line of the rising wedge drawn in the chart above.
So it appears there are 3 possible scenarios here or battles if you will:
Cup and handle breakout above the 113.20 level on a upside surge in volume implying move to April 2010 highs.
A break down to the bottom supporting line of the rising wedge which is then supported again for rising prices thereafter for another shot at the 113.20 level.
A break down below the bottom rising wedge support line leading to a fast bear market drop to the 102 level on the SPY.
The bears want a break down from this rising wedge.  The bulls want a break up from the wedge above 113.20.
For the bearish scenario to play out we really need to see a break down at or below 110.50 on the SPY maybe by this Friday or early next week.