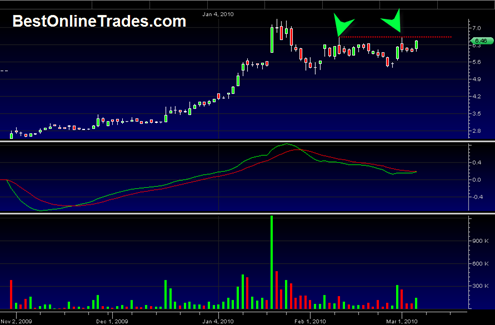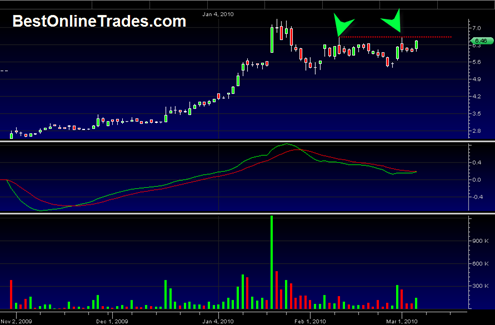 I first talked about SPU Sky People Fruit Juice here.  I mentioned in that post that SPU did a nice bullish indicating volume test on a swing high in February that implied good odds that the 6.60 high would eventually be exceeded.  The volume on the retest was in the neighborhood of 50% higher than the previous swing.
Breaking 6.60 appears to be in the cards now now and I expect SPU to get a move going into the end of this week.  I don' t expect that to be the end of the run however.  I think SPU could trend higher for months perhaps into some type of peak in the July August time frame, the traditionally hottest months in China and the rest of the globe.  Very hot weather is good for beverage companies (people get thirsty).
The other nice thing about SPU is that so far for the last month and a half SPU has only done a 38% retracement of the entire previous move which is a bullish sign and an internal sign of strength.
They are speaking at www.roth.com in mid March and price has a way of holding up good going into and around these conferences.  But I do expect SPU to trade higher on fundamentals as well as technicals for several months.