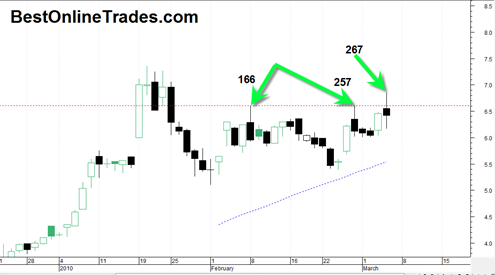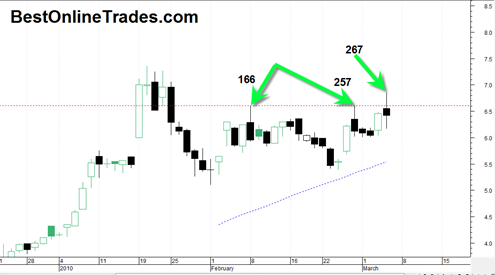 SPU Sky People Fruit Juice today pierced on an intra day basis the 6.60 level I mentioned in previous posts and it did it on volume of 267,000 shares.  The action is bullish and SPU has traded with a higher high and a higher low on increased volume.  A bullish sign.
The 267000 volume today was also equal to or greater than the two previous swings as pointed out in the chart.  SPU appears to be close to getting a new uptrend started on closing prices above the 6.60 range.
It is still possible that the march 15 to 17th time frame could serve as a rally point as they will be speaking at the Roth Capital Growth Conference.  In addition Sky People Fruit Juice Inc. is also overdue to release its end of fiscal year financials.  It would make sense to do so before this conference.
A small stock like this with a small float is the type that can get a move going into these types of events.
In any event regardless of that conference, SPU appears still to have a constructive price chart and a growth path that should support higher prices into later this year.
But the first order of business is a full price bar candle close above the 6.60 range.