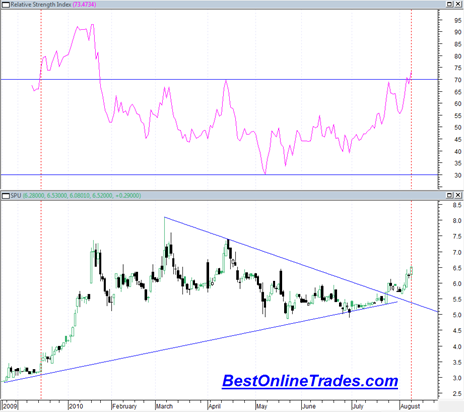 SkyPeople Fruit Juice, Inc is a Kiwi and other specialty fruit juice maker out of China.  It is expanding distribution and there seems to be a developing growth story here.  The chart of SPU shows that SkyPeople Fruit Juice, Inc has busted out of a somewhat large coil and now headed higher into a new price trend.
SPU has also recently busted into the RSI power zone above the 70 level.  The last time SPU did this it led to an approximate 20 day run of greater than 50%.  It would seem it can do it again as long as the daily 14 day RSI remains in the powerzone above 70.  See the vertical dotted red lines on the chart below.
It is no surprise that recent volume on the up move has been light.  I definitely expect it to expand as we get into early September.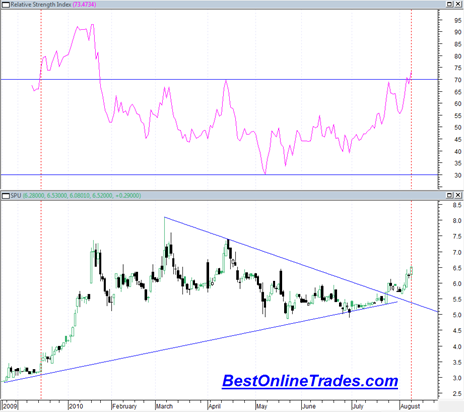 7.25 is pretty significant resistance but after that it is blue skies and no previous resistance.  Perhaps SPU is coming of age.  The juice business is quite a simple business.  Depending on their business model, margins can be quite high.  That is part of the reason why Warren Buffet bought Coca Cola aside from brand strength.
Brand strength is what SPU is probably missing at this point.  Although I cannot speak to that fact in China.  I do not know how popular it is there now in terms of brand recognition.  But the market is clearly huge there and they have some good competitive advantages as far as their kiwi fruit juice production ability and its location.
We are talking near zero market penetration in the United States, although I do recall them entering the California market soon or maybe even right now and plans for possible further USA distribution.