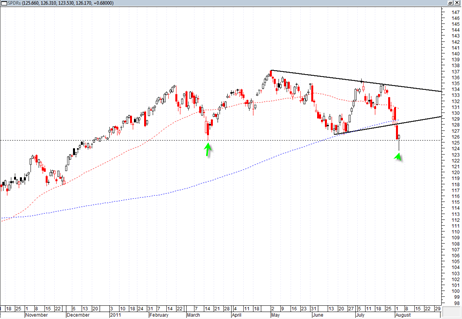 Today the SPY ETF Bottomed with a bullish spring formation in relation to the 3/16/2011 price swing low.  It was a bullish spring and rejection of that 3/16 low and volume shrunk by about 21%. 
So it is clear to me that we have bottomed in the short term and are now set to work higher in some type of counter trend rally higher.  This may end up being a low volume rally higher relative to the recent heavy volume decline and would set up a possible ideal re shorting opportunity in mid to late August 2011.
It is quite clear to me that the next big decisive move in the market will occur in the late August to early September 2011 time frame.
Counter trend rallies can sometimes extend a lot higher than at first thought.  I am thinking the SPY could get to the 130 to 131 range with an outside possibility of 132.5 as the most optimistic scenario.  The weakest bounce scenario would be about 128.5.
It will be interesting to see if the market can break back inside its symmetrical triangle formation.  If it does then I would have to mark that as a potential bullish sign because it would indicate the break down from the triangle was a false breakout.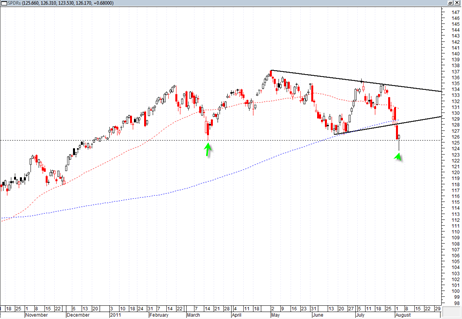 I have to admit that the damage to the QQQ has been quite minimal thus far.  A new rally from here on QE3 or something similar could maybe send the QQQ close to 52 week high territory again.  It is also true that the QQQ so far has not broken under its 2007 high of 55.07.  That may occur in September, but so far we still have to give the QQQ credit for holding ground in sideways fashion.  I am aware we have a head and shoulders top formation on the sp500, but the lack of follow through on the QQQ has me a little bit confused.  We did not break down through the neckline today and in fact rejected it.  Still, the monthly charts are saying a big break down will occur later in August or September.
So despite my longer term bearish outlook I think I have to approach this market one chunk at a time.  The chunk we are in right now is a large swing trading range and we are likely to bounce now back towards the top of the range again.  How high I do not know yet, but we want to look for signs of the rally failing and struggling after a few weeks.
We need to identify the structure of the upcoming counter trend rally and track its volume.  Perhaps it will form a rising wedge or similar.  I would give it a few weeks to form and see what the pitch is.
If all the bearish stars are aligned then I will issue a BOT reshort signal later in August or early September 2011.