Play Trading Radio (click blue arrow)
Amazingly the SPY ETF had a nice upside move today and managed to get back inside the trading range that has been defined since May 7, 2009.  The volume was weak on the decline that we saw near the support of the trading range.  I had written previously about how I thought we had a couple of bullish springs based on volume retests of previous swing points.  So it looks like today's result is in part due to that.
There was not enough volume on the test of the trading range.  If we are going to get deeper than a 38.2 percent retracement from the March lows, then we really need to start pushing down with a lot more volume.
So what does it mean now that we are back inside the trading range?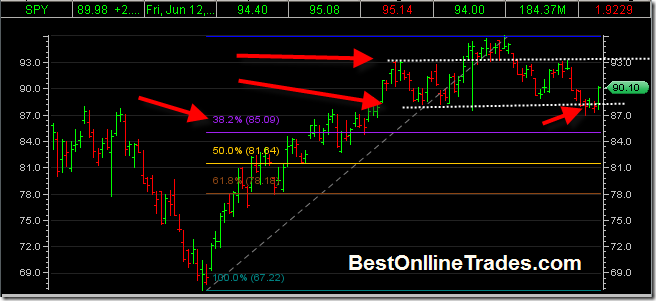 Well as you can see from the chart above, it could imply that we will now go back to the top of the trading range on the SPY ETF at near the 93 area.  That would be the classical definition of where price should go next based on the failed break of a couple days ago and the bullish spring type volume we saw at those levels.
I continue to be impressed with the relatively weak nature of this correction and continue to also think that it implies a strong resumption of the uptrend within the next 2 or 3 months? But as I mentioned in the trading radio comment it is a tough call to say when the real move comes since we are really getting into the slow summer months of trading now.  That is not to say you cannot get the real move during the slow summer months, but I would wonder where the heck the upside volume is going to come from if everyone is on vacation during those months. 🙂
So anyway that is my take for now.
We could start to see some big setups come into bullish trends in the months ahead.
One stock that looks very clean to me right now is FITB. Firth Third Bank. Take a look at the chart: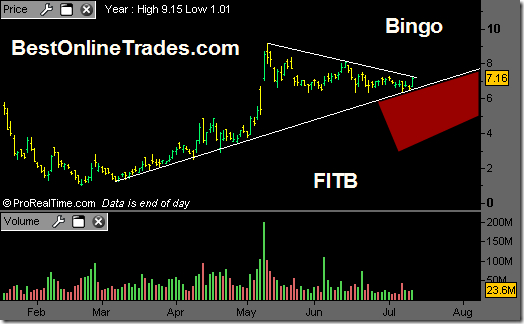 This is a very clean looking chart in terms of volume and in terms of defined boundaries.  You can see the broad market patter inside of this stock right now.  If we start teasing above that down trendline then it may be bingo time to the upside, but again, I find myself wondering IF the real volume on such a move can come in July/August Time Frame.
Pier one, PIR is also a strong pattern setup with a sideways trading range consolidation and looking like it wants to go to the top of the range again.  So these are just a couple examples inside the market.  But again you can see the broad market movement in some of these individual stocks, if you look carefully.
Ok thats it for now.
Peace. I'm out.