Trading Radio Click Arrow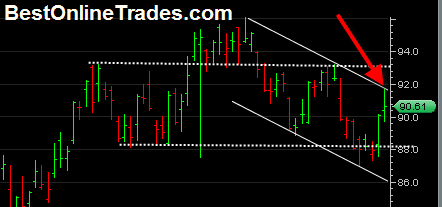 The SPY took a shot at the top trendline of this narrow channel we have been in for a few weeks.  It did the attack on light volume and still finds itself within this down slanting channel.
In my previous commentary I was talking about a different horizontal trading range (the white dotted lines) but I would say that this down sloping channel is equally important for trend forecasting.
Perhaps there is another swing trade developing here, but this time to the short side.  It all depends on how we behave here right under the top down trendline of this channel trading range.  I am skeptical that we are going to get a breakout so soon, but I could be wrong.  We will just have to let the market decide what it wants to do.
Today is Tuesday, so I suspect the last three days of this week will be spent in a sideways consolidation on the SPY ETF and then next week will be the determination if we break through and up this channel or turn around and resume down again.
It is an interesting setup here as we look at the structure of the market since March 2009.  I still think we are going to break out north and then continue north in a big way, but it will take time and lots of price work before we get to that point.
Clearly the market is working on cleaning out an overbought condition from the rally since March.