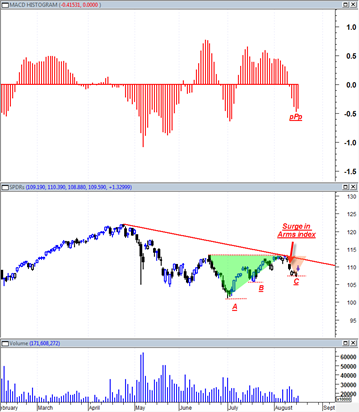 The market decided to curl back up into the swing trading range as predicted yesterday.  Volume was lousy today on the upside.  Still, price closed higher and managed to hold most of the gains.
There is a bullish triple P setup right now on the MACD histogram versus the SPY ETF.  It is still an unconfirmed buy signal right now but if we close above today's high of 110.39 it will confirm the MACD histogram buy signal.
Since the July 1, 2010 low the market is still technically in an uptrend showing higher lows (A , B , C ) even though the most recent higher low is only slightly so relative to the previous one.
If one looks at the DJIA 30 stocks, there are quite a few of them that are showing patterns that resemble head and shoulders bottoming patterns (General Electric Company) and cup and handle patterns (United Technologies Corporation).
Looking at the SPY chart below I shaded in green a possible cup portion and then orange the possible handle which could be forming now.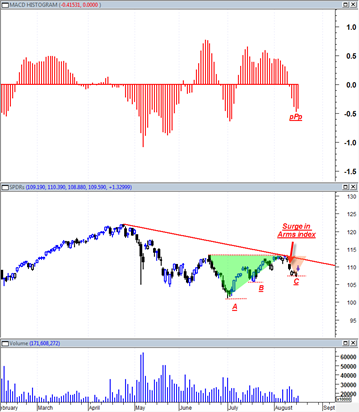 If that pattern turns out to be valid it is going to push this market above the red bear market trendine in force since April 2010 and start to open the door to all sorts of different bullish possibilities for this market.
I am skeptical that any clear decisive break through could occur before early September however.
The bearish case is supported on a breakdown through 107.18 on the SPY ETF that could keep the MACD histogram in a bearish trend and evade the bullish signal I alluded to earlier in this post.  It is going to be very important to see if this market can get a bullish confirmed MACD histogram buy signal this week as it could possibly lead to quite a dramatic character change in the market.
I say this because there is not much room between where we are not and the top or the bearish descending channel line.  We are squeezing between minor current support and topside channel resistance at about 112. . .