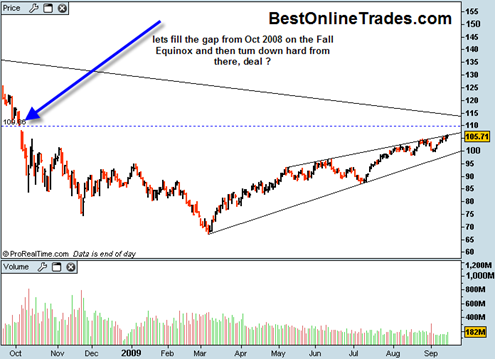 The SPY ETF looks like it is on a clear mission to fill the October 6, 2008 gap which would be filled if we hit 109.86.  That gap was on very heavy volume on the SPY (575 million shares) and it is going to be interesting to see first if the gap is filled and then what kind of volume we get on the fill of the gap.
A very light volume fill would definitely not be a bullish sign.  But on the other hand this market has been trending higher and higher and higher on lighter and lighter volume.
The broad market action continues to blow my mind.  It is trickling up like water torture slowly and quietly just pushing higher and higher and blowing out shorts who take new positions with each up tick.
General Electric had a bullish break out from a large head and shoulders bottoming pattern in the recent 3 days.  It is hard to get super bearish on this market with GE making such a nice breakout on confirmed volume like it did.
I am still open for a correction at any time and maybe one will actually start near the fall equinox next week, but the modus operandi for the near term future is not to fight the tape and let 'them' take this baby north.
The monthly charts still look bullish and it does look like we still want to test the longer term bear market downtrendline as I have alluded to several times already.
My stance still is that we will hit the longer term downtrendline and then start a longer term correction which will likely be sideways to down from 3 to 6 months.  As long as the correction maintains some sort of constructive structure and does not lose price support too quickly, then I would expect an eventual move higher again possibly into the 1300 to 1400 range.  But that is looking too far out and is cloudy at best right now.
Don't forget that we are also running into the end of September which will market end of Quarter.  There may be some end of month and end of quarter 'window dressing' (when funds and indexes 'paint' their portfolios so that their end of month and end of quarter statements look good) which could give prices an added kick higher.