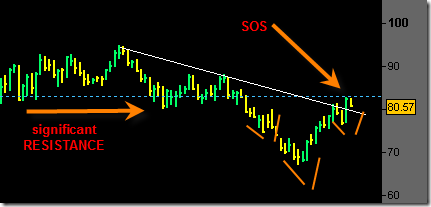 The market is still looking quite constructive to me given the recent price action. From the chart above you can see that the market at least as represented by the SPY ETF is still contained within a long down trending bear market type channel despite the positive last 2 weeks or so positive price action.  There are a few different ways of looking at this however as you can see from the next chart.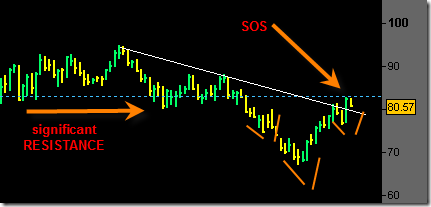 The dashed blue line in both of the charts above is quite a significant level of price resistance (supply).  We do seem to be bumping our head on this level right now.  However in contrast to the first SPY ETF chart, you can see from the second chart that the SPY has managed to break through the more near term down trend line with a sign of strength (SOS).  In addition one can make the case that a small head and shoulders bottom formation has formed or is forming which could have price projection to slightly under the mid 90's area.  So it seems we have a market that is trying to works its way higher but still with the challenge or overcoming the dashed blue resistance level.
If price simple is able to hold sideways to slightly down from these levels, it could keep the case going for a break through of the resistance level.  The near term down trend line in chart two may act as minor support here.
We will just have to see how it shakes out from here.  My take for now is that we will be able to build enough energy to break through the blue resistance line and power higher.  This result could be from the benefit of the inverse head and shoulders bottom formation.
Also, on other thing to keep in mind at this point is that we have only have 5 days left in the month of March.  That will give us our monthly closing price bar and quarterly closing price bar.  This is important because if we can get a close in the next 5 days that is near these levels or higher, based on the monthly chart it could point to explosive upside price implications for April, 2009.  The other factor is that we have end of month and end of quarter window dressing effects during the next 5 days.