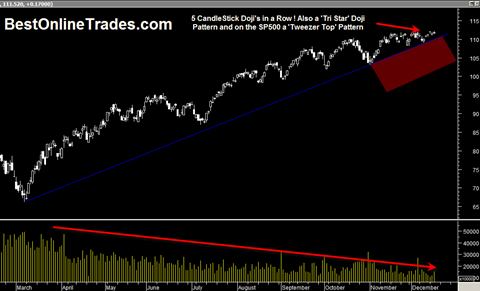 There are only about 8 real trading days left until the end of the year if you exclude the days around Christmas.  So that means about 8 trading days to create the final YEARLY price bar close and then start the next one for 2010.
The market has powered up so fast and so persistently in 2009 that one would think people would take at least a few points of profit and capital gains.  For us to close the 2009 yearly price bar only a couple points from the yearly high seems improbable.  Just like on a daily price bar right before 4PM you see day traders exiting, I think we could see similar type price behavior going into end of this year.
In addition I should also tell you that I have noticed some OMINOUSLY bearish looking candlestick formations in recent days on the SPY ETF and DIA ETF and also the SP500.
On the SPY ETF there have been not one, not two, not three but FIVE consecutive doji candlesticks!  The most recent three before yesterday created what I believe is a 'Bearish Tri Star'.  This is a very RARE formation and I have seen a similar formation on the UUP US dollar ETF right before it had its steepest 10 day plunge in its entire trading history (I believe that was December 2008 time frame).
In combination with the bearish tri star, on the actual SP500 index there is also a tweezer top formation.
Today could very well be the confirmation from these bearish candlestick formations.  And remember that candlestick patterns and formations are LEADING indicators, not lagging indicators like the MACD or other oscillators.
Speaking of oscillators, remember a while back where I was OBSESSING about the WEEKLY MACD oscillator and wanted to track when it would get into a bearish crossover stance ?  Well amazingly it has evaded the bearish cross even now up to this date, but I reviewed it and I see that it looks to be ready for a bearish cross similar to the 1975 period.  The cross looks ready to occur next week which would be consistent with this candle stick topping analysis.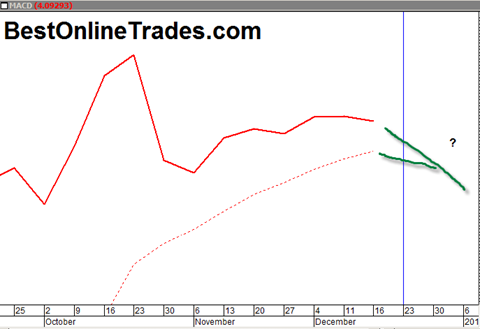 Lastly, remember that uptrendline since the March lows ?
It is still important and if this candlestick formation truly is calling the top then it looks like this March 2009 uptrendline could be ready to be challenged again if not broken.
I have done a couple other posts in the past basically saying that the new year is an ideal point for selling to begin for the simple fact that the next 2010 price candle has a very high probability of at least having some initial downside free play before price turns up again.  This can be more clearly seen on the yearly candles.
Anyway, I went long the FAZ yesterday and plan to hold it through the end of the year as long as the recent bearish tri star candlestick topping pattern is not violated (ie. price breaks significantly above it).
Oh and one last thing, there was a new moon yesterday :)  (Larry Pesavento has indicated that tops are more common on new moons).  But it is indeed interesting to see the bearish tri star form right on the new moon and prices advancing with a bunch of dojis into the new moon.
So there you have it!  Whether or not this is the real time remains to be seen.  Trading volume has been almost non existent in recent weeks and conviction in either direction has been lousy.  So one cannot rule out a slow water torture type price action that remains in force until the last day of the year until the 2010 bell rings and the real selling begins.