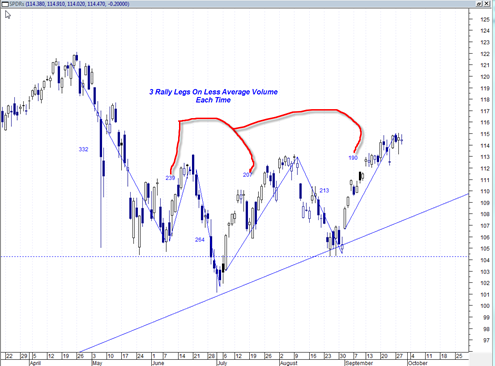 I just completed a brief volume analysis of the SPY ETF since the April 2010 top.  It helps provide some more clarity to the market phases since that time.  I have to admit that the current volume picture of the SPY ETF is not very encouraging for a continued advance.
The PRICE advance in the NDX100 and nasdaq looks very strong, but the volume picture in the SPY is confusing and not so bullish looking.  It could simply mean that the market is not fully ready for the 'real' advance yet and is still in a consolidating sideways correction.
What I have done is label each major leg of market action in the SPY ETF since the April 2010 top in terms of volume.  One can see that the August 2010 decline was only on average volume of 213 million shares which compares against the previous down leg of 264 million shares in June 2010.  That is an almost 20% decline in volume and was a warning that large rally was to commence.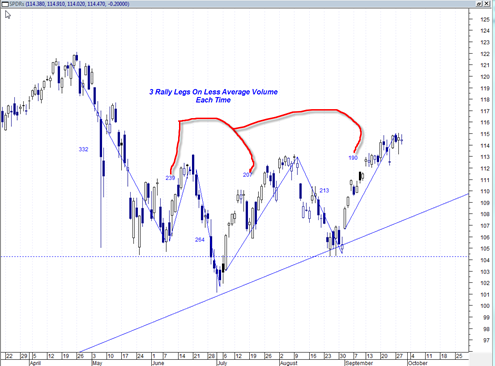 But if you look at the three major rally legs so far in the chart above then you can see that they were on 239, 207 and most recently only 190 million shares.  So the three rally legs we have had so far have been getting weaker progressively in terms of the volume side of the market.  This is not good.  The 207 rally leg was on 13% less average volume and the most recent rally is on 8% less volume than the 207 leg.
This analysis I did a few minutes ago is tempering my bullish outlook a bit. 
The chart above may be suggesting to us that the current rally is becoming tired.  It is still possible that the average volume figure for the current rally will grow much stronger in October, but we are going to need to start seeing massive increases in daily volume during October.
The other aspect is that the downside volume decreased from 332 to 264 and then to 213.  These have been progressively weaker down legs in terms of volume.  If we do start to get a downward correction in October 2010 then it will be important to see if the average volume once again shows a lower run rate as compared to the previous down legs.. If so then it would suggest this is the FINAL down leg before another huge upsurge.
However, if the downward correction in October 2010 turns out to be a higher average run rate than the previous legs it could warn that a possible new downward phase in equity prices is coming.