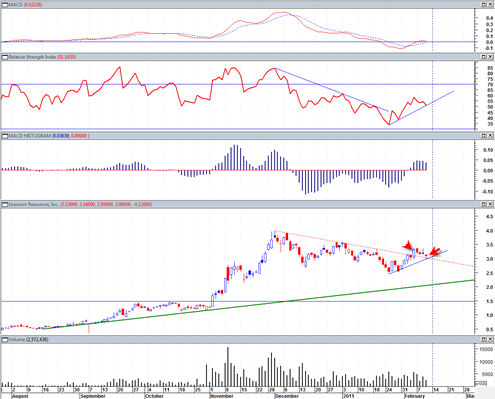 I am still long URRE Uranium Resources, Inc, the uranium mining stock but I am a bit concerned that it will not be able to break out of the recent long consolidation.  Actually it already did break out of the down trend line of the consolidation, but it has not shown much follow through action as of yet while other uranium miners are still charging ahead.
Today URRE printed a hammer reversal candlestick and tested the 2/4/2011 breakout price swing on about 50% less volume which appears to be a bullish sign.
CCJ earnings are coming out after the bell tomorrow 2/11/2011 and then URRE conference call is Monday 2/14/2011. 
To be strict I really think URRE needs to have an up day tomorrow to move all the indicators in a more favorable position before the start of next week.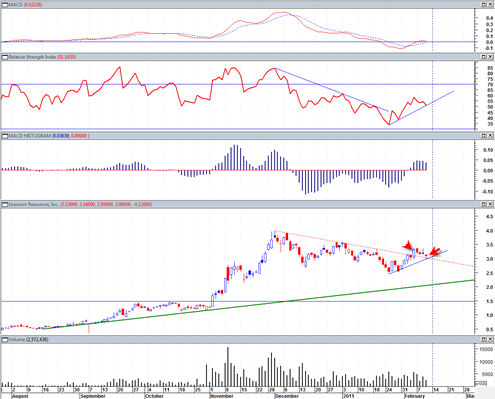 The first red arrow towards the left in the chart above shows the break out price move on robust but not huge volume and now we see that price has drifted back towards this breakout area and today it made a reversal hammer.  Ideally this reversal hammer will be confirmed tomorrow with some positive action.  I may have to pull the plug on this one tomorrow if it trades unusually weak. 
But the sector as a whole still looks quite strong.
CXZ Cross hair Exploration and Mining Corp may currently be forming the handle of a cup and handle formation.  It too printed a reversal hammer today.