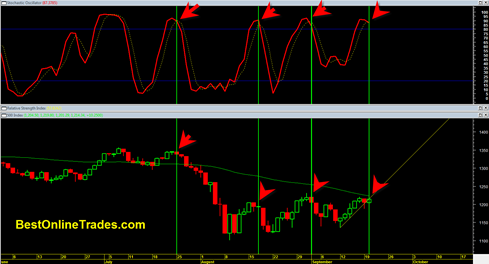 Since this mini – bear has started in late July the stochastic short term trading indicator has issued three very reliable sell signals and led to major downside price action in the sp500.
The stochastic has been good so far as a sell signal after it has traded ABOVE the 80 percentile line and then had a bearish crossover.  The stochastic indicator has worked well so far because we appear to be in a bear trend.
Now we have another stochastic sell and it would seem that the market could drop once again as it has the three previous occasions.
The issue is that the reliability of the stochastic indicator depends on if we are in a bull market or bear market.  One cannot rule out that tomorrows price action combined with news could completely flip us from mini bear to mini bull.  IF that occurs then it would probably invalidate the most recent stochastic sell indication.
But if we ARE still in a mini-bear or even a major –bear market right now, then the stochastic SHOULD perform as it is intended to do during a bear market.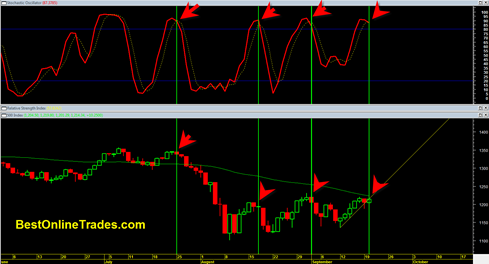 So if we are in a bear market then the stochastic should work tomorrow and tell us that the market will SELL HARD the Fed decision news and allow the market to start plunging again, consistent with bear market stochastic action.
My take is that the stochastic will deliver correctly again and allow the market to plunge tomorrow as the market sells the lousy fed news.  BestOnlineTrades is still currently on a BOT Short Signal.
I currently see a double top right near the 50 day moving average after an over extended bear market rally.
I see copper and oil again weak today and telling me today's rally is a smoke screen.