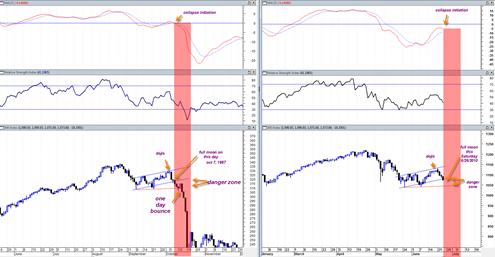 It seems as though a lot is riding on tomorrow's price action.  As of today's 6/24/2010 close it would seem that everything is lined up for a hard down weekly close as I indicated before was an important requirement to continue the crash scenario.
But when I look at the current sp500 trading channel on an intra day chart one can clearly see that as of today's close we are in a spot were a huge upside bounce could come in.  In addition 1076 is about where a 61.8% fibonacci retracement comes in from the June 8th, 2010 low.  So there is some support and enough reasons to cause a big bounce.  This really is a key area we are at right now.
So the issue is, do we bounce dramatically tomorrow early on and then fail at the end of day for a weekly close near the bottom of the range ?  To me that would be the most ideal scenario going into the supposed bearish Astro Monday the 28th of June, 2010.
Closing weekly hard down right before the weekend has a way of allowing the market to build up energy over the weekend to accomplish a break of important support (in this case) or resistance.
So clearly the most ideal scenario for those bearish on the market is a close near the 1050 range tomorrow.  Already being down 4 days in a row makes it seem unlikely we would get another down day tomorrow.  However I have seen many times markets run up repeatedly 5,6,7,8 or 9 days in a row to the upside in the most bullish environments, so why can't the market get a string of 5,6,7,8, or 9 days in a row of downside moves ?  It is possible, but not highly probable.
Regardless of what happens tomorrow I can clearly see that the MACD has kissed near the zero line and appears almost ready for a downside crossover.  This was the signal that in 1987 started the crash cycle.  The point of the bearish crossover was the point where the real drop started to occur.  This tells me that despite already having 4 days of decline, we have not even begun the real downside fireworks yet.  The transports are closer to a bearish cross than the other indices.  Only a super rally tomorrow closing at the highs is going to turn the MACD UP again.  A flat close or slightly up won't be enough.
Also the Mcllellan summation index also kissed the zero line and has started to curl over downward as well.  So two key indications that the reversal is gaining ground.
General Electric (GE) and Home Depot (HD) look pretty sick.  GE really looks like it wants to bust downward through its support area and Home Depot already has.  The other DJIA stocks are in various states of bounces but overall I can see how they can move into another leg down and break support as well.
I find it interesting that the SP500 on this bounce that ended with the three dojis (similar to the 1987 crash initiation) stopped at 1131 instead of 1150.  1131 is sort of a compromise in the middle of the range.  It seemed like the whole world needed 1150 on this bounce in order to reshort.  So the market made a compromise and decided to not let the 1150 crowd get their re short level.
If we do close hard down tomorrow to end the week or end somewhere near 1050 and then actually do break below 1040 next week I am thinking that the process could be drawn out for maybe 10 full trading days. 
1987 made it so easy since it just basically went straight down almost literally in a straight line.  I seriously doubt we will get an exact repeat like that.  If we get hammered really bad it seems all but guaranteed that the Fed and all the Kings men will throw everything at this market to get it to bounce upwards again.
So I suppose my take is that there will be a few big down days but in between them maybe some huge bounces and intraday swings that make it really difficult for everyone.  That is my guess. I am just too hesitant to call for a total disaster type move in one to three days, like to 800 or 700 on the sp500 in a few days time.  I guess it is possible and it would make world history but it just seems too unlikely.  If it does happen then it will be because the rally from the 3/6/2009 lows was manipulated, fake and on low volume.  Low volume rallies in any market or stock can lead to horrendous crashes and extreme down price moves.
Assuming 1040 is broken through next week, and since this 1040 is an extremely important support and resistance area, it would be very common for the market to rally back up very strongly to this line assuming a break down through it does occur.  The hard part is figuring out from what low point the upside bounce actually does occur.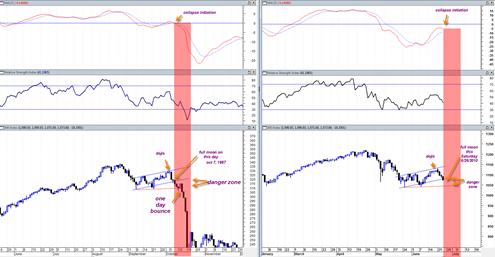 So the game is on.  Let us see how the market is able to close this week out as a possible clue for next week's action.  A huge portion of the volatility should kick in during the next 10 trading days and they are likely to be very wild.