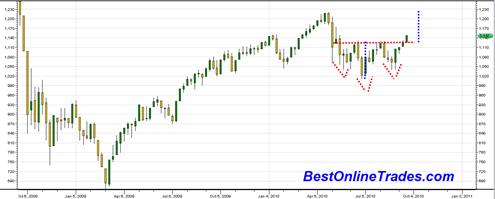 With the fed decision out of the way, the market is only showing very limited weakness and it appears the squeeze that began yesterday is in continuation mode today.
The persistence of the current rally brings on the temptation to think that it is unsustainable.  But keep in mind that yesterday was a sign of strength above a very important resistance range.  That is not a sign of a weak market.  In addition, during March and April 2010 the market managed to rally higher for 6 straight weeks in a row.  The rally in this current week would make for a 4 week streak.
Still between 1124 and 1128 is the important level that in my opinion must hold through this week to show the market wants to stay above new support.  We printed an indecision doji today but all things considered today was just a consolidation day, and not real retest of support.  Volume in the SPY ETF came in at about 270 million shares which is quite robust and also important in that we hit a new higher high today on the heavier volume.
I can guarantee you that there will still be some down days and corrections between now and Thanksgiving 2010, but the more important question is how to 'frame' the current new price trend.  I think it should be framed in terms of buying dips with the expectation of higher prices ahead (on the condition that we must hold 1124 to 1128).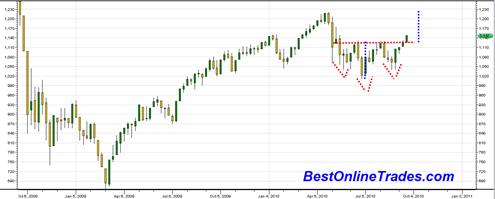 From April 2010 to August 2010 the market has created a 'frame' where selling rallies was the proper thing to do.  But I believe that frame has changed now and the longer term bias is now north.
The market was only able to get a 38% retracement of the March 2009 to April 2010 rally.  This is a major sign of strength in my opinion and paves the way to a new upward leg which appears to be in full force now and since end of August 2010.
The chart of the sp500 above shows the head and shoulders bottom formation that projects back up to the April 2010 highs as a measured target.  The chart is weekly prices and shows that a solid weekly close above the red dotted horizontal line is important for confirming the breakout north from the neckline.