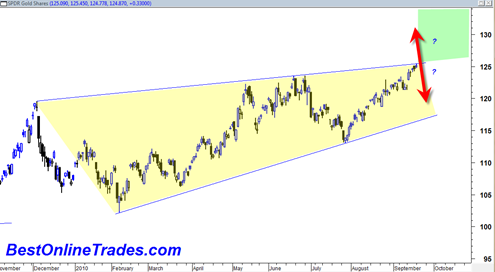 The GLD ETF was only marginally higher today while the stock market had a very strong day.  The GLD ETF finished with a daily reversal hammer and the volume today was surprisingly light.
I did a post previously articulating some concern about the somewhat sluggish gold price uptrend in recent months.  The sluggish gold price trend shows itself in the form of a rising wedge which Carl Swenlin originally observed over at decisionpoint.com  Today we hit the top of the large rising wedge on very lackluster volume in the GLD ETF.
I think some caution is still in order in the gold sector since we are now at the top of the rising wedge and show a reversal hammer.  If the GLD ETF can manage to bust out north from this rising wedge then it would relieve a lot of the anxiety within this wedge.  But for now, we are still contained within it and it will be important to see how the gold price behaves assuming the stock market can continue to power higher (on continued economic recovery hopes and no double dip fear).
The US Dollar Index is till in quite a bearish stance that leads me to believe that both gold and the stock market should be able to continue higher for months to come, but I think one still has to keep an open mind. 
As long as the gold price remains contained within this large rising wedge it might be prudent to be open minded to a scenario where the stock market gets more 'wind in its sails' at the possible expense of the gold market.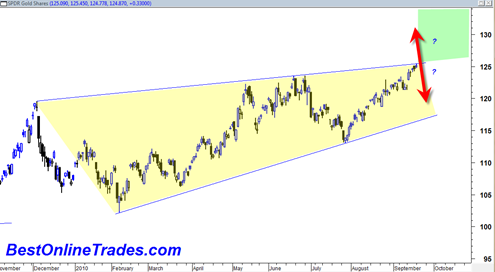 If the GLD ETF continues to remain within the yellow shaded area all it says for now is that the gold price wants to continue to trade within this large rising wedge and consolidate for a longer period.  The risk of that is that it could be an indication or a more important top.
On the other hand if the GLD ETF manages to bust out north of this wedge and head into the green shaded area it would confirm the recent new all time highs breakout and invalidate the potential bearishness of this wedge.