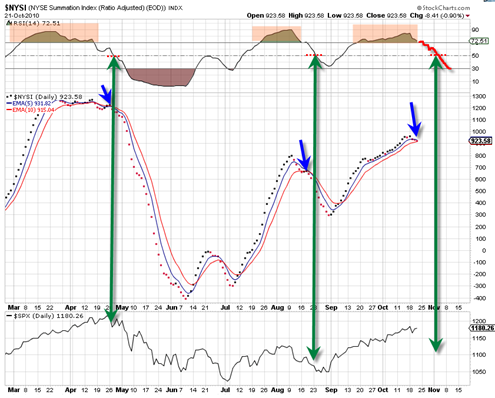 The 5 day EMA is pretty close to 10 day EMA crossover in the summation index.  In addition the RSI of the summation index is ready for a break down below the 70 line.   The is a slow moving indicator and it is still going to take some time before we can stick a real fork in the market, but the setup of the summation index is saying we are pretty close to a top here.
We still have not seen a 2 to 2.5% down day in the sp500 and we really need to see that (and preferably with a close near the low) to get downward momentum moving much more confidently.
A down day like that would shake the bulls confidence enough to make any subsequent rallies just 'ghost rallies' in my opinion.
But we need that 2 to 2.5% down day!
And I do not know if we are going to be able to get that type of day before November 2 and 3rd. The near term daily charts seem to be saying we are pretty close and today's topping tail is once again suggesting that some supply is coming into the market.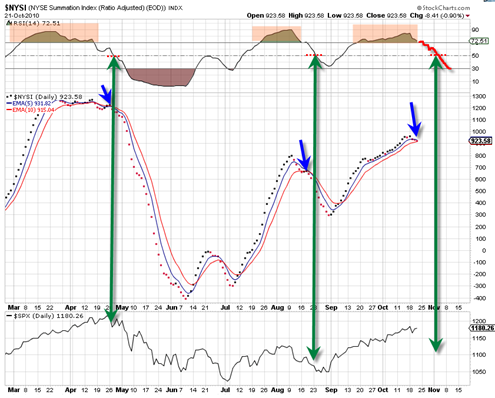 The amount of time that the RSI has spent above the 70 percentile line for the summation index chart above is coming pretty close to the April 2010 time frame.  The RSI of the summation index needs to bust below the 70 line and then cross through and down the mid point 50 level line.  At that point the market should be lower than were it is today.  How much lower is too early to say.
It took 14 to 15 trading days for the market to move between April 15 and May 6, 2010 AFTER the RSI of the summation index began to cross below the 70 percentile line.
So assuming we get a down crossover of the RSI below the 70 percentile line tomorrow, then it would seem to indicate we should be ready to start a decline phase that lasts between 14 to 15 trading days into a climax low (or at least a 7 day sideways and then decline into climax low).  I already indicated that there are 9 trading days between now and the elections and the FEDS QE announcement.   So it seems pretty clear that we are looking at some significant moves in the market during the next 9 to 15 trading days.
I can't rule out that we move sideways for another 7 trading days.
But I really do wish we would get a 2 to 2.5 % down day to get this kick started !