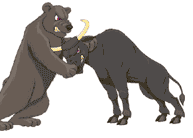 Today was one of those days that I would have thought had the potential to be really bearish.  The GE and Bank of America 'bad news' really should have been the bears chance to take the DJIA down 200 to 250 points and close at the lows. 
But once again the bears failed to do enough technical damage and they even got weaker near the close.  The bears are going to win this game at some point but right now they just don't seem to have that magic yet.
But why? Because the predominant trend is still for the most part up.  We are not yet in any type of confirmed intermediate to longer term down cycle yet.  So the selling when it occurs has a strong enough bid under it and prevents a total break down.
I am still a bit spooked out about this weekend because it is a new moon and also this supposedly powerful astro date.  The market has gone right up into this weekend and if we start to see signs of weakness next week or ease of price movement to the downside then I am going to at least begin to consider that this potential weekend turn date is valid.
The NCT setup that I mentioned in a previous post behaved quite well today in the face of a down market and it continues to look good going into next week.  I still think it has a decent shot at a minimum of testing the recent highs near the 4.00 level.  I would like to see it do it next week, but it make take some more cause building.  I noticed that NCT does seem to arrive late to the party so to speak after the broad averages have already made their move.  So it would be consistent with it moving next week.
I am also watching the oil/energy sector now and am thinking this sector needs to be given priority focus for the next few months.  Oil as represented by the USO or UCO ETF has achieved a breakout out of a large complex pattern and it bodes well going forward for both the oil price and oil stocks.
I am starting to search for oil stock setups and will try to get a write up this weekend of BQI (an Oil Sands stock) which is maybe not the best setup in the world but it may have some merit on a rising oil price.  It is moving out of a large pattern and may consolidate in the next week for a good possible entry.
So oil is definitely in focus in my opinion and may even be able to hold some good relative strength even if other markets start correcting or weakening.
Somehow I managed to find this link to moneyshow.com  and next week they are having a bunch of free educational webinars.  You have to register with the site and then browse through the choices and 'Add to Cart' to sign up for them and then 'Proceed to Checkout'.  I signed up for the ones that have to do with trading or ETFS.  There is also one by Tom Busby whom I started learning about recently as well.  Also, "The Truth About MACD" looks very interesting (but that one is in late November). I might sign up for some of the other fundamental ones as well as there appears to be lots of good tips and info on many different aspects of trading and investing.  Definitely worth a look.