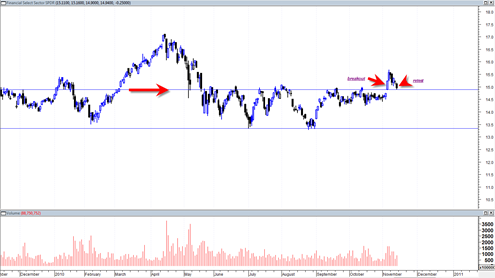 Like a dog needs a bone, like a river flows to the ocean and like the sun comes up every morning the E Mini S&P500 Futures are trading up by about 4 points this Sunday night 11/14/2010.  It seems like a trader could make millions just going long the S&P Futures right when they start trading every Sunday evening.
I may have to switch back to a long signal again if I see the market retain its composure early this week.
The recent drop in the market over the last several days has not been extremely damaging. Instead it has the flavor of being an orderly controlled decline.  It has been on relatively moderate volume unlike the series of damaging declines that occurred in the mid to late April 2010 time frame.
In addition, we must remain open to the possibility that the market is currently undergoing a simple and classic Wyckoff Retest.  If one looks at the XLF Financial ETF it can be seen very clearly.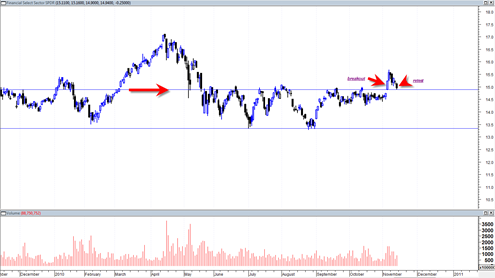 The XLF showed a sign of strength breakout above a very long trading range on much higher than average volume.  Then it has pulled back to support on successively lower volume.  By Wyckoff's definition this is the lowest risk entry area, a return to a previous break out area on low volume.
As long as we see the XLF hold ground at current levels and try to tread higher, I have to retain the bullish presumption.
Thanksgiving week does not have a very strong reputation for being extremely bearish and so seasonality make come strongly into play again.
Bullish sentiment is clearly up in the clouds, but I would rather make a judgment call on the price setup and structure than sentiment.  If the extreme bullish sentiment is to have any effect then the XLF will need to break back under support and similarly we would need to see the DJIA and other indices follow suit.
So for now I am thinking we have another possible bullish resolution of the recent 5 day slide.  This market has made a habit of taking very strong advantage of an oversold RSI reading.
Having said that, I think it quite important for the market to finish November fairly strongly.  If we finish November 2010 at current price levels it could possibly setup quite a bearish looking monthly November candlestick.  So the pressure seems to be on the bulls here to deliver a strong Thanksgiving run and finish the month strong even at already high overbought levels in terms of sentiment and several other important indicators.