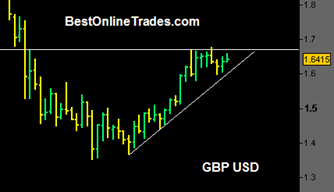 The GBP USD has a nice looking uptrend as seen from the chart at left.  This is the weekly price chart.
I think we could see some more significant fireworks to the upside with a valid break of 1.6717.  If you have been reading some of my previous posts then you will know that my current stance on the US Dollar Index is quite bearish, especially if it breaks critical long term support near the 79 level.  That could imply a similar large move up in the GBP USD.  I suspect a good deal of volatility is on the horizon.
Now the question is whether it happens in August or September.  Again the above chart is weekly prices and just based on that it seems September is more plausible for the next action type move.
After watching and observing currencies for some time I can tell you ( maybe I don't have to tell you) that currencies are slow moving beasts.  They take their time to back and fill and find their trend, and when they do find their trend they also take their time.  Of course there are the occasional big moves if you can find the right combination of price congestion and price cause.
It is plausible that a break of 1.6717 could lead to a big size move relative to what I expect the USD dollar index to do.  So definitely this pair is worth keeping an eye on as it moves out of this congestion area (hopefully by September?).