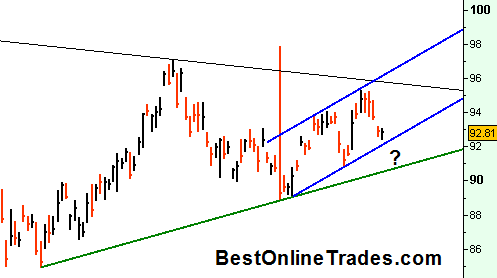 The GLD today barely did anything but is still inside this blue trending channel which I talked about previously being important for a 'breakout by September 10th' scenario.  The volume today was really light on the GLD and it looks to me like the success or failure of the retest of the bottom of the blue channel line could occur tomorrow.
If we break under the blue channel line then it is going to open the door to another retest of the bottom of the symmetrical triangle (the green line).  If that happens it will be critical to hold the bottom of that triangle for an eventual breakout later in September or the final quarter of this year.
I would like to see the US Dollar break down tomorrow and see gold jump right back topside to make another attack on the top portion of the triangle.  But what I wish for and what happens are two entirely different things.  The US Dollar still looks like it wants to pop to the upside as a resolution to its bullish divergence.  But maybe something out of tomorrows FOMC will change that outcome? 
James Mound of MoundReport.com made a comment in one of his recent newsletters that he believes the US Dollar will hit 86 before it hits 72.  He also said that he will stop writing his newsletter if he is wrong.  So he is sticking his neck out and remains very bullish the US dollar and bearish several commodities (including gold I believe).
I can see a bull case for the US dollar, but I can see a bear case too.  It is still at a tipping point right now as far as I can see.  It is hanging onto long term support at 79 now.  Perhaps we will have a more conclusive set of data by the end of next week, or maybe even end of this week.