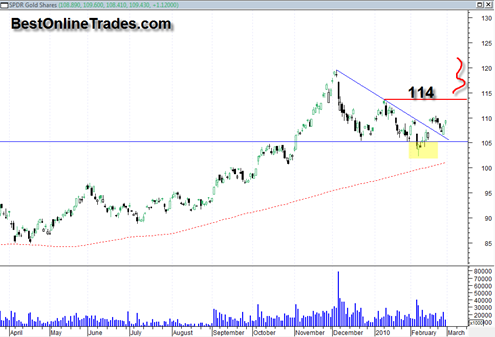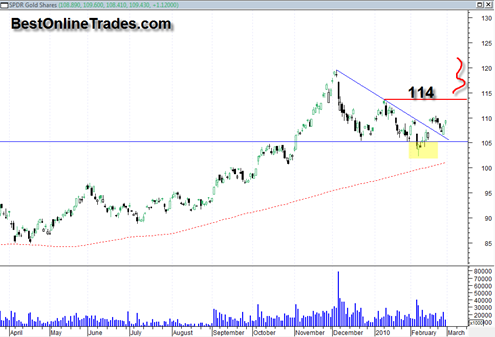 I have tried in recent months to come up with bearish reasons why the gold bull market is ready for a pause and a long 2 to 3 year corrective consolidation.  Certainly I think it is reasonable for one to expect a 2 or 3 year consolidation in the gold price given that it has been going UP in very persistent fashion since 2001 ?
But despite my desire to come up with a bearish outlook, the tape action as shown in the GLD ETF is voiding those conclusions at least for now.
Gold looks surprisingly bullish to me right now and the GLD ETF may be getting ready for another massive leg up.  The correction of the last few months has been orderly and not catastrophic.  Price has held reasonably well.
Most recently we see from the yellow shaded area on the chart that the GLD has initiated a 2B buy signal, a short term bullish sign.
In addition the GLD has managed to break up and out of the downtrend that has been defined by the solid downward slanting downtrend (solid blue line).
However the GLD still remains within a congestion zone defined by the 105 and 114 levels.  Despite the early bullish signs, this is still a dangerous congestion zone that can trap new commitments very quickly.
For me to get pounding my fists on the table bullish on gold and the GLD ETF, we need to see the GLD trade with conviction above 114 level.  Above there and it is time to go long gold aggressively again in my opinion.
In the short term the US dollar index looks somewhat toppy, so that could support the GLD moving up to 114.  But whether or not we get a break through remains to be seen.
The confusion comes in when we look at the longer term chart of the US dollar index which still has potential signs of higher trending prices.  If you look at the long term price chart of the US dollar since 2001, it is hard to get very bearish on it again given how long it has been going down and also now that it has done a sloppy double bottom off of a large base.  However the double bottom in the US Dollar index is not really confirmed unless and until the dollar is able to trade much much higher from these levels.
So regardless of what the dollar does, the key still remains the 114 level on the GLD ETF.  If broken decisively, it should open the door to an eventual move to 140.