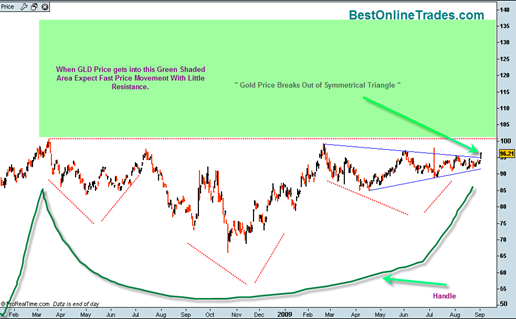 I am only going to do one post today and it is going to be on the GLD ETF because I want to emphasize how important a day it was today in the gold market.
Today we broke out north from the large symmetrical triangle with confirmed volume and confirmed sign of strength.  The triangle formation has been developing since February-March 2009 time frame.  This is quite a large triangle and has significant cause for an extended move.
But there is even better news.  This symmetrical triangle also makes up the right shoulder of the much larger head and shoulders bottom formation that has been in existence since March of 2008.
And there is even more better news.  The entire head and shoulders bottom formation of approximately 1.5 years in duration is in itself the handle of a super large cup and handle formation which is 30 years long.
If I am correct in concluding that all of these patterns are valid then today should be the beginning of the large move out of this pattern that should result in upside from 6 to 9 months, maybe 12 months.  I am estimating the upside time duration from previous moves in the gold price out of large patterns like this but realize that I am making an approximation.
I have absolutely no idea what would cause a successful breakout in the gold price above 1000.  But I am open to the possibility that this event could be triggered by a major fundamental or political/terror event which may cause a massive shift to precious metals and a contrary massive shift out of paper assets (broad market averages).  It is possible that this upside move in gold could result in a contrary severe correction in the broad market.  That is just ripe speculation at this point because the broad market (Sp500 etc.) has different parameters.
This is why I have been recommending extra caution and conservative strategy now with broad market type stocks.  Complacency has reached a peak in that sector, and bearishness had only a few weeks ago reached a peak in the gold sector.
For the intermediate to longer term (3 to 9 months) time frame going forward I think it is a good idea to start focusing, researching and studying the gold related sector, including the gold mining stocks.
Gold mining stocks have a tendency to be 'sleepers' most of the time, but when the gold price transforms from a sideways into a running market, the gold stocks can move big and move fast.  I believe there will be lots of opportunities on the long side in many gold stocks.
I am confident that we will get a topside breakout over 1000, but the question that I am still pondering is what the nature of the breakout will look like.  I would not be surprised to see a very swift move over this level in the form of a run away gap up or several run away gaps up. 
Part of the reasoning for this is that this level has already been tested 3 times and also the fact that we have zero resistance left on the left side of the chart.  The green shaded area on the chart (click on it for full size) represents the price area where there is no resistance and gold can move freely without any resistance.
This was not the case in the gold price move up from 250 to 1000.  All along the way up there was plenty of heavy resistance that slowed upside moves in gold.  But now the price can move more freely and I fully expect it to do so.
Remember that in major bull markets, 90% of the move comes in the last 10% of the time.  That could mean that the best price action is straight ahead of us in the gold market and is partly the reason why I am putting so much emphasis on it right now.
I mentioned the levels of 95.25 on the GLD and 21.50 on the DGP ETF as levels that needed to be exceeded for me to start pounding the table for the bullish case.  They both delivered handily today and continue to be part of my bullish recommendation from today going forward.
So no mention of other stocks or other setups today because this story is such a major headline story that everything else just pales in comparison.  This story should be getting major continuous coverage on all major media networks right now because it is such a large magnitude technical event.  A 30 year cup and handle pattern that contains two other very large technical patterns inside of it is a HUGE HUGE story in my opinion.  The whole world should be flocking to the gold price now, but instead they probably will wait until the top.
I only briefly turned on CNBC today and while they did mention gold it seemed like it was more of an afterthought than extensive focused coverage.
As the gold price starts to move up persistently in the months ahead I would expect a gradual and eventually feverish rush to the gold price that will blow itself out in a climax type of peak.  But for now that is looking too far ahead. 
Let's just focus on the month of September for now and see how this breakout develops.
Huge huge action today in the gold sector and let this one post be a marker for it!