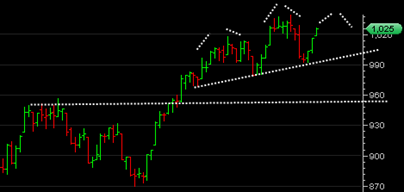 The S&P 500 traded higher again today but I cannot help thinking to myself that we are not making much upside ground.
We are also not making much progress on the downside either.
I am still open to the possibility of some more severe downside action later in September and early October but so far the market appears to want to consolidate slowly sideways to up on very light volumes.
I am having a hard time finding any new good setups as well.  They are still out there but they do not seem as plentiful as before which makes sense because a month ago the broad market was going up in almost a straight line whereas now we are consolidating those gains.
So I think it is a bad idea to try to force the market's hand right now and just sort of be on the sidelines and watching for the next real big move.
It is possible that on a short term basis we have a small head and shoulders topping pattern on the SP500 that could send it eventually down by end of September to just under the 960 level which would be near term support.
This short term head and shoulders topping pattern will be invalidated if we are able to trade above the head portion of the pattern.