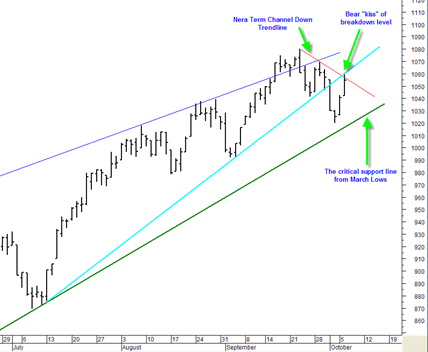 Today the SP500 index climbed right back up to the short term bearish channel line as defined by the red line in the chart to the left.
The market also pulled back right up to the light blue line which represents the shorter term wedge which was broken to the downside several days ago with significant volume.
The green up trendline is the most important trendline in this chart because it represents the long term support of the advance since the March lows.
To keep the near term bearish picture intact, the market really needs to head down right from the open tomorrow.  If tomorrow you see the futures up 10 or 20 points and you see either an opening upside gap or a simple upside continuation that looks strong an persistent then this market may take another shot at the 52 week highs.
Today was an astro turning point according to Larry Pesavento and it is quite possible that today was a magnet for the market to make a high right into.  But it is not going to be a valid signal unless the market breaks down right from the open tomorrow.  That is how well defined and tight the trading range is here.
So I would have to say the situation right now is neutral and that likely tomorrows action is going to decide if the bears are in charge or if the bulls want to make another run for the highs.
The volume on the SPY today is hinting that there could be a downside reversal if you compare today's swing volume with the one of 3 days ago.
It is going to be interesting to see if the astro turn date that was in effect today will be able to pull this market down tomorrow and the rest of this week.  If it is successfully able to do that then it could potentially drag the market down very hard into the weekend of the 18th.
Perhaps I am staking too much on just one days trading action tomorrow, but they are all valid parameters.  One thing that may happen and which cannot be ruled out is that the market moves higher all day tomorrow but then does an intraday reversal to close right where we closed today.  That would also be extremely bearish for the rest of the week.  But again, if this market is able to jump over the red resistance line and get some good momentum then the bear case is on hold and will have to wait.