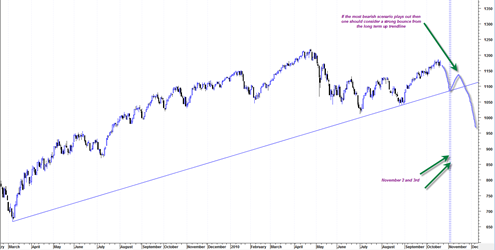 The long term up trend line from March 2009 may come into play if we are to see the most bearish scenario start to play out.  At this time I am still looking for more bearish confirmation and observing the nature of the tape before I can say with any degree of confidence that we would touch the 2009 up trendline again.
If the more bearish and fast down scenario does start to play out then I expect the 2009 trend line to become an important possible pivot point for the market that bounces it up before a possible eventual break through it down a bit later after the bounce.
It would be significant if we touch this 2009 up trend line for a third time because usually on the 3rd touch a market or stock becomes successful in getting a break through.  And it is also significant in the sense that the 3rd attempt to break the 2007 bear market line recently FAILED.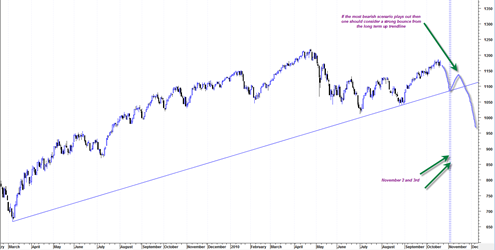 So a 3rd attempt failure at breaking the topside bear market line could potentially mean a 3rd attempt SUCCESS at breaking the 2009 up trend line.
Very interesting dynamics setting up here into end of October 2010.