Who says they don't ring bells at the top?  This was the top in my opinion.  The evidence is overwhelming and I consider today the most pivotal day we have had since this entire automatic rally advance began in March 2009.
I have more confidence now than at any other time that we have hit the top in this market and have in store at least a 15% correction and perhaps much more.
Volume ?
You have probably seen this yourself or heard it elsewhere but the advancing volume on this entire rally has been weak at best and there have been repeated non confirmations with respect to price swings and volume tests.  In order for price advance over a previous swing to be valid, you want to see volume come within 3% or greater.  There have been plenty of occasions during the entire advance where this simple price advance rule has been violated.
More recently the icing on the cake with respect to volume and price swing test failures has been the recent test of the 10/6/2008 gap on the SPY.  Take a look at the chart below of the SPY.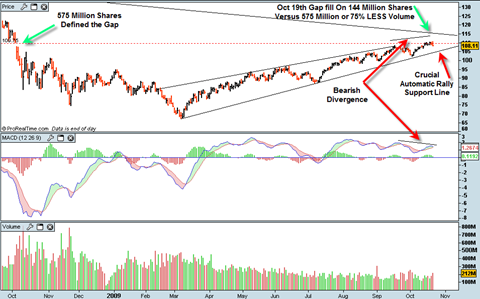 You can see that ironically on October 19th 2009, we fully filled and tested the 10/6/2008 opening gap but only on 144 million shares!  All the other price advances into the gap where on similar volume.  Now if you compare that the gap volume of 10/6/2008 you are looking at a gap test on 75% LESS volume which is an extremely bearish sign.
That super weak gap fill is the icing on the cake in my opinion.  In a previous post (I think a month ago or so?) I was hinting how amazing it would be if the SPY was able to work itself up right into fully filling this gap and then 'give it up' thereafter.  This is exactly what appears to have happened, and today's negative price high volume reversal was the confirmation.
There is also a slight bearish divergence pointed out in the chart between the recent action on the MACD and the two recent price thrusts upward.  While it is true that we have had repeated bearish divergences between MACD and price for a good portion of this entire rally, I think this time the market will not be able to evade it given all the other evidence of a top.
The Mcclellan Summation Index has finally ticked down after drifting sideways for a couple of weeks and floating up in the clouds so long and now appears ready to initiate stronger downward momentum which reflects broader internal weakness in the market taking hold.
The Larry Pesavento Astro date of October the 18th, 2009 appears to be confirming all the other points I make in this post.  That astro date which was on last Sunday was extremely negative according to Larry.  I know almost nothing about Astro dates, but when I combine them with other data, some of which is in this post, it paints a picture of a confirmed top.
The Time Factor 
The time factor is crucial as we go into the end of October.  Up until now if you look at the MONTHLY price bars on the SPY or any other major market index for that matter you will see strong robust price advances that appear to be almost vertical in direction and show strong price closes near the top half of the range.
But here is the KEY.  There are only 7 trading days left in the month of October.  Obviously we are still forming the monthly price bar this week and next.  The most important factor however is how we close the month of October.  If we start to get severe price decay over the next 7 trading days and if we close somewhere near 103.03 (the price close on October 1st, 2009) by the end of next week it is going to set up a very ugly looking MONTHLY price reversal bar that gives a high confidence indication that November will also be hard down in terms of price action.
So the best case for the bears going into the October monthly price close by Friday October 30th, is a close somewhere near 103.  That would be a very ominous sign for what November holds.
I can't wait to update the weekly MACD indicator by Friday of this week.  If I am correct in saying that today is the final top and we will soon see hard down price action it is going to be interesting to see how weekly MACD looks by the end of this week.
The most bearish setup I can think of for tomorrow is a gap opening down that would create an island top in the SPY and kick into gear the 2B sell signal that I was talking about yesterday.
It is going to be very interesting how we close this week out! I could still be wrong, but I am about as confident as I have ever been that we have seen the top as of today and that it is time to focus on the short side of the market for a while.