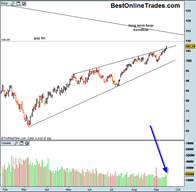 The SPY ETF has a very key day today.  Today was in my opinion probably a bigger nail in the coffin for the bears than any other day.
Simply put, we broke north out of this large rising wedge pattern on a nice increase in volume and suggests that the SPY is in no mood to get any severe correction going any time soon.  Rising wedges can be bearish patterns, but if broken topside they can turn into super bullish patterns.  This appears to be the case now.
It looks like we are going to fill the gap area that occurred in October 2008 and have a decent shot at touching the longer term downtrendline that has defined this entire bear market so far.
At some point we are going to get a more involved correction and I suspect that it will start near the bear market down trendline and will probably also coincide with the US dollar index hitting minor support near the 70 level.  I think we will get an upside oversold bounce in the US Dollar index from those levels and that will start some sort of 3 to 6 month correction in the SP500.
The nature of that correction will be key in determining how much higher the SPY goes.  I suspect there are plenty of people who have been too scared to jump into this rising market so far and will use the next major extended correction to get their entry.
Jesse Livermore, the great trader from the early 1900's said that a stock is never too high to buy and never too low to sell.  He was right.  Just because this market is 'high' does not mean it cannot go higher. 
The most fascinating thing about the market action of the past year has been the dramatic turnaround and then persistent price action that followed it.  We went from extremely oversold to extremely overbought almost overnight.  I think it is difficult for human nature to be quick enough to absorb such a radical shift in market sentiment.
So the bull rolls on… Don't fight the tape!.. Not yet anyway…