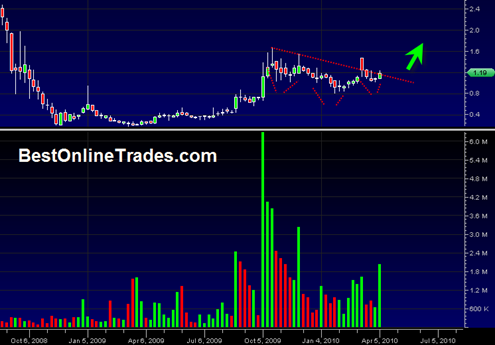 Timberline Resources Corp TLR chart is starting to look quite bullish to me again on both the daily and the weekly price chart.  I had talked about Timberline Resources Corp several other times in the past but it never really seemed to get anything done.
But now it has corrected along with the gold price and if I am correct that the gold price is getting close to shooting higher again, then TLR should eventually benefit from a nice gold price advance.
The problem with TLR is liquidity, somewhat spotty trading and a slow learning curve.  I suspect that even if the gold price does break out north, that Timberline Resources Corp  may take its own sweet time in getting a follow on break out.  That has been my experience with some of these junior gold stocks.
Still the chart structure looks good and it may be a nice position trade for the summer and into the end of 2010.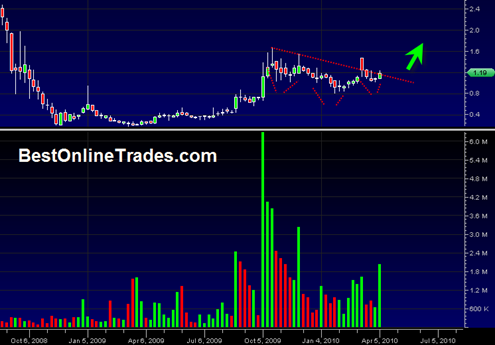 The chart is showing that Timberline Resources Corp volume (weekly volume) is coming in VERY big this week and that the price has also made a large head and shoulders bottoming formation.
An eventual breakout could send this into the 2 range which would be an almost 100% move.  But again, the problem with TLR is the spotty trading and the somewhat lagging effect to the gold price.