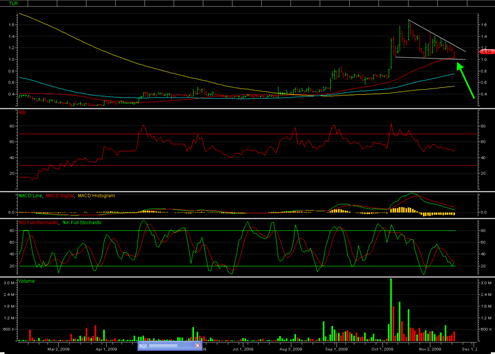 TLR Timberline Resources did an important test today of support and swung down to test demand just above the 1.00 level.  The test passed with flying colors as we say almost a complete reversal and close near the top of the range.
I think TLR still has more work to do but it appears to be in a falling wedge type pattern.  I really don't want to see it break below 1.00 and stay down there as that would imply a much longer type consolidation.
Best case scenario is staying within this pattern and then getting some kind of upside breakout near Thanksgiving week. 
I made a bad mistake of getting into TLR before it gave a real breakout signal.  I should have waited for it to break the down trendline near the 1.29 level before jumping in.  I really should not be making that type of mistake anymore because you can see what it can lead to: getting trapped in a stock  and having to sit through draw down and doubt.
Anyway, so far still constructive and looking for sideways to slightly down action.