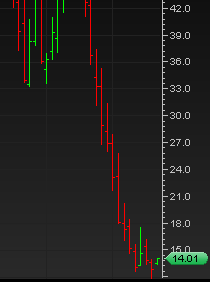 After a violent retesting action in the UNG ETF I believe that UNG has now bottomed and should embark on an eventual retest of the 17.55 level.
The recent break to new lows was a head fake in my opinion and we should now see a renewed bullish uptrend gain some footing.  The daily action showed that the most recent retest had to hold to keep any chance of a more significant reversal intact.
The monthly price bar chart of the UNG ETF as shown in the chart to the left tells us that the July monthly price bar showed some signs of demand in that we had a mid range close and test of the previous monthly swing 3 months previous to it.  That initial demand in the July monthly swing is spilling over to August now and I think it will continue.  Certainly there will still be volatility, but the trend will be up as I see it.
There also appears to be an island bottom formation on the UNG ETF that was confirmed as a result of today's action and gap up.  Island bottom formations are very rare in the commodity futures market.  I don't believe we had an island bottom on the natural gas futures contract, but I am still going to give merit to the fact that we have an island bottom on the UNG ETF.  It gives me a good dose of evidence that this is the final bottom for UNG.
Even a modest upward retracement of the UNG ETF bear market that it had could see it eventually doing a 50% move from these levels.
When I first talked about the UNG ETF it was still too early in the corrective process to definitively say we had made bottom.  Needless to say it had a violent snap back corrective leg that caught me off guard.  But now the tide seems to be changing.
If at first you don't succeed, don't give up and try again… seems to be the moral of the story on the UNG ETF. 🙂