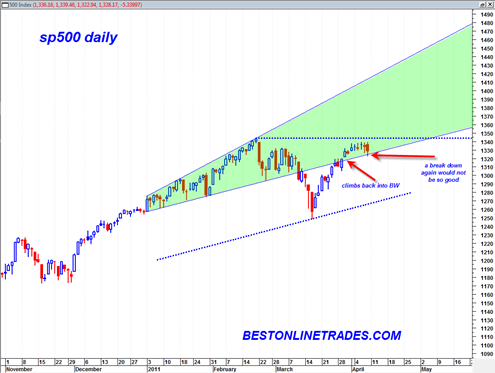 I have to say that currently the analysis of the future direction of the sp500 is quite 'tricky'.  I am thinking that I can make equal arguments for the short term bull or bear case.
There are several reasons for this.  One reason is that currently the weekly MACD on the market is on a sell signal and I have been waiting for the market to provide a northward confirmation of the weekly MACD histogram buy signal.  We did not get any confirmation this week.
Instead, on the weekly chart of the sp500 we now have a potential bearish triple M on the weekly MACD histogram which is unconfirmed.  This means that the bearish weekly potential trend could be re confirmed on a weekly close below 1333 on the sp500.
There is also the issue of the overhanging supply from the 2/28/2011 top.  It is unknown at this time how much supply still has to be worked off of this level.  We are seeing the sp500 trade in dojis and then some selling today to work off of this supply, but it is a tough call to say that we are finished working it off, we may not be.  The NYSE summation index seems to be at a resistance zone and may start to stall here.
You remember that expanding broadening wedge formation in the sp500 ? 
As it turns out, we have currently climbed right back into that large broadening wedge formation…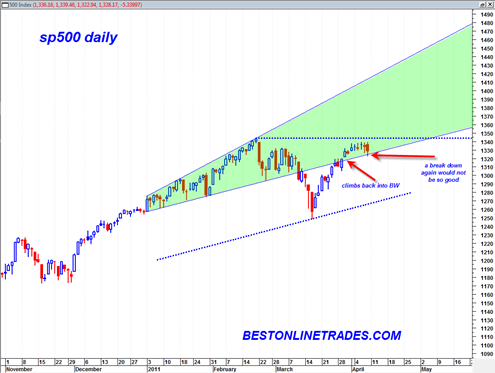 Annotated in the chart above where I write 'climbs back into BW' you can see that there was a little price hesitation and then a pop back up into the broadening wedge zone.
But as of today's price close we seem to be sort of doing a step down retest onto  the bottom supporting line of this broadening wedge formation.
I have to say that a decisive break down Monday 4/11/2011 would not be so bullish at all given the context of the above chart.  That would add to the potential weekly bearishness that seems to be lurking but still not fully confirmed yet (see previous discussion).
Apparently the next move in the market may have to do with this this potential government shut down.  If the government does shut down I suppose the futures traders could tank the market Sunday night and sent the market down again early next week.  The entire rally has been government funded anyway so it would seem some selling would occur on such an event.
Still I don't want to pre judge the market too much.
If we can hold current levels early next week and still trade within this broadening wedge formation we still have a shot at an upside breakout. 
But at the same time I cannot deny the cluster of dojis, the slight weakness today and the clinging to the broadening wedge support line…  Looks sort of 50/50 to me right now depending on what happens Monday…