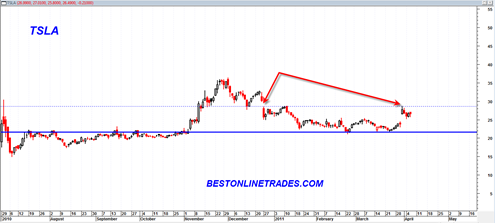 Today I sent out a notification email to BestOnlineTrades Letter Subscribers about TSLA.  This stock looks quite good to me right now, and may be timely on both the daily and weekly time frames.  I think TSLA could evolve into a great swing trade.
Before I even get into the brief technical discussion, it seems to me that a pure play electric car company has some huge advantages the next year or two.  Yes, the other auto markers are all working on electric vehicles as well, but TSLA is a pure player in this space.
If oil sky rockets to 200 dollars a barrel ( I believe it eventually will but may take 1 to 3 years) the demand benefits to TSLA could be huge and if they are able to ramp up production to a high enough level economies of scale would kick allowing them to offer more price competitive cars.   But this auto maker seems positioned as a niche player in the high end space.  And it seems to me that everyone would like to avoid filling up at the pump, no matter what 'class' they belong to.
Porsche has a market cap of 80+ billion and TSLA has a market cap in the 2.6 billion range.  Seems to me like there is a lot of potential upside for this niche electric auto company especially if the oil price gets out of control.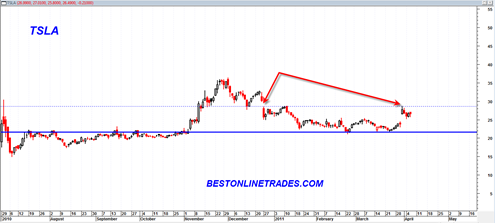 As far as the stock price I like the huge blast higher and gap up several days ago on gargantuan volume.  This was a huge sign of strength and now the stock is consolidating.  On that day it also pushed into the previous down gap on greater volume which is a bullish sign.
Key level to break is 28.71 on TSLA.  It maybe take a while to break up and through that level, but I think it will happen eventually.  I view TSLA right now as one to watch closely as it appears to be in the early phase of a possible new up cycle.  TSLA could turn into a very good multi week/month swing trade from here.
Look out GM, Ford, Toyota and Honda, here comes TSLA…
Possible more updates on TSLA in the future…