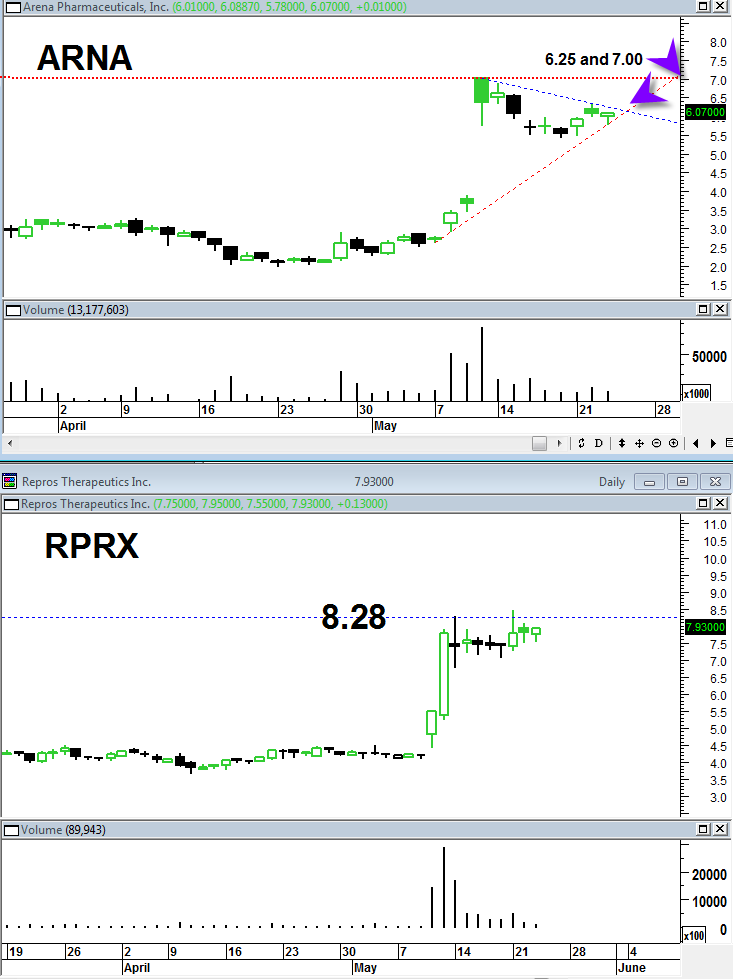 I did a cup and handle scan on several thousand stocks today and a biotech stock came up in in the scan and then at the same time I happened to remember a previous biotech I was following occasionally last year and amazingly it showed a structure that looks just as good as the one that came up in the cup with handle pattern scan.
This happens to me sometimes and it probably does to you as well.  That is, you remember a stock you used to follow and then decide to check up on it to see how it has been behaving.  Sometimes by pure chance of luck you can run into a good setup this way.
The methods by which you can find good stock setups are probably almost infinite.  The difficulty is in the identification of a great setup.  Sometimes it can be difficult to see the forest for the trees.
One factor that I really do like to see in any stock is when it shows strong relative strength relative to a previous general stock market correction.
The two stocks below ARNA and RPRX have done exactly that during the recent 'sell in May and go away' correction. Biotech stocks are holding strong and do not seem to care about Greece or Europe.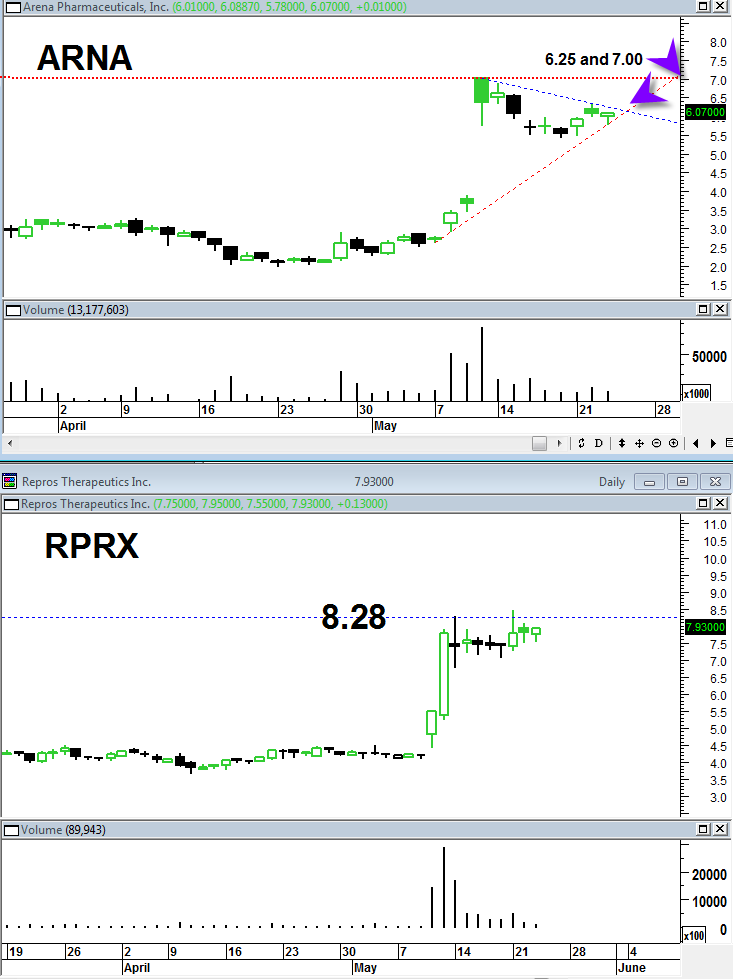 Of the two charts above I actually like RPRX more because it does not have such a huge and blatantly obvious running gap.  However I will say that if ARNA can get a close above 6.25 and a full price bar above 6.25 it could start to get quite interesting.  The next very key level above that for ARNA is 7.00.  But because ARNA had such a huge move it might be at much higher risk for an intraday gap fill or longer sideways consolidation.
RPRX is my more favorite looking chart of the two above and shows that a move and close above 8.28 is likely to be a trigger that could send it higher again.  The weekly and monthly trend for RPRX looks quite good indeed.
I also like the fact that in both of these biotechs it looks like this is still quite in the early phase of this uptrend.  One has to be really very careful with biotechs as they tend to pop like popcorn both up and down, but it does feel a little more comforting to know that they are not already in a full 1 month mature up trend.
On both stocks above I do not see a confirmed bullish MACD histogram buy signal, or even a pre-histogram buy setup.  However that could change very quickly with a strong up day in either of these two stocks.