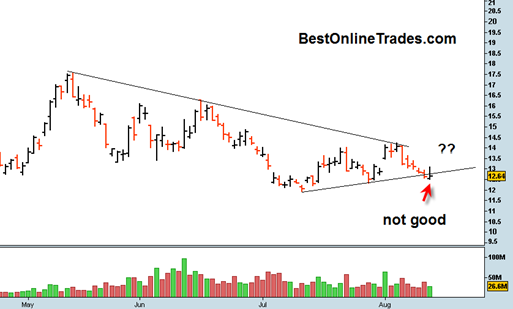 I talked about the UNG ETF several other times and at this point I am going to just have to put it in the freezer for while.  The trend has been relentlessly bearish.  I thought a couple of weeks ago that the UNG Natural Gas ETF would be able to get some sort of spike rally higher based on the monthly chart because there were some weekly divergences building and the monthly chart was showing at least some promise of a reversal in August.
But as of today the chart looks weak and horrible.  Today and yesterday we briefly broke under trendline support and may warn of an impending break below which could be really bearish.
The only slightest hope of a bullish case in my mind right now is if the UNG can jump back above 13 and stay above this near term trendline and then continue to obey it.  I don't know if that will happen, but it is looking less and less likely. 
Perhaps UNG needs to get in single digits before any hope of final bearish capitulation can take place ?  It is possible.  And based on how UNG is trading, anything seems possible.
Stay away from this one otherwise you might end up in a hand to paw fight with a big wooly grizzly bear 10 feet tall.