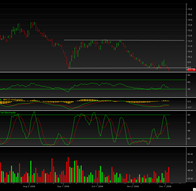 I have to call the UNG double bottom a failure at this point.  Only 4 days ago the price bar had me thinking it was a confirmed double bottom and UNG was ready to rocket north in swift fashion.
But instead UNG has broken down badly again and today busted support on substantial volume.
I don't know if UNG is going to make a more complex bottom here or just keep breaking down now even lower.  But today's action does not inspire much confidence that a firm double bottom will stay in place.
UNG seems to be behaving in almost opposite fashion to most other markets these days.  For example the SP500 has repeatedly evaded sell signals and bearish divergences and UNG has repeatedly evaded buy signals and bullish divergences.
So it seems the lesson here is to respect the previous trend as much as possible and as long as possible until you have much stronger signals of a confirmed trend change.  So it may not be a bad idea to wait until we see an actually monthly bullish MACD crossover before thinking about playing the long side on UNG.  Until that happens it would appear that the sell side is still much too strong.