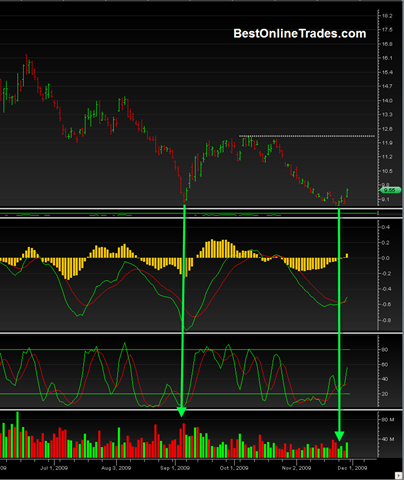 The UNG Natural Gas ETF may have bottomed recently.  It could be that this is a major major long term bottom in the UNG ETF but it is way too early to make any firm conclusion on that yet.  I am just speculating it as a possibility because of the extended nature of the bear market decline and the degree of oversold it reached.
However, the UNG has done this double bottom retest on significantly less volume and makes for quite a convincing double bottom at this point.
I suspect that the UNG wants to eventually move back to the top of this trading range indicated by the white dotted line in the chart.
I am seeing the monthly MACD get into a bull market stance but price needs another month or two of work to get a confirmed signal. 
If the UNG is able to move back to the top of the range it will go a long way towards moving the monthly MACD into a bullish bull market type stance. So one step at a time.