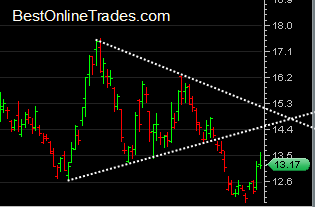 The word is that the commercials have been accumulating natural gas futures for a record amount of time (source: Jake Bernstein) as the price of Natural gas has been plummeting.
Amazingly the UNG natural gas etf managed to break DOWN through this triangle at these bear market lows for the contract.
So what now? Well I can tell you that the picture is still mixed and no real trade that I can see here yet.  However there is something to be on the look out for on the UNG ETF price chart.  What I am on the lookout for is a 'busted pattern' setup that could form over the course of the next month or two. This is a developing story and will follow up with it if I see confirmation.
A 'busted pattern' is when you see price break out of a pattern (for example symmetrical triangle) and then, instead of price continuing in the target direction of the pattern, price reverses back up (or down) and then does the complete opposite.
I believe the busted pattern setup would be activated if we see the natural gas etf get back up to the apex of this triangle near the 15 level and then break through the down slanting trendline that makes up the top part of the symmetrical triangle.