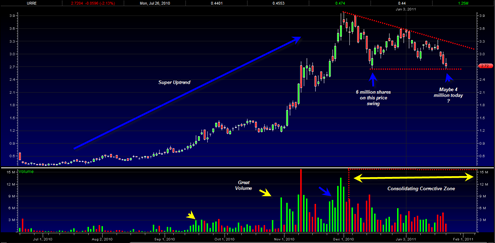 Uranium Resources Inc URRE is very close to making a decision on whether or not to hold support at 2.65 in the coming days, perhaps as early as tomorrow.
Today we see that URRE declines for the fourth straight day and is closing right near the low of the day's range, but not significantly violating 2.65 support level.
In addition the volume today on URRE came in just under 3 million shares.  This is relative to a previous key price swing at this level that produced slightly more than double this volume (about 6.1 million shares).  The 50% reduction in volume would seem to suggest that URRE could generate an upward bounce tomorrow.
On the other hand if support of 2.65 is violated tomorrow it could open the door to a challenge of the 2.10 price level, the next key shorter term area of support.
URRE is trading significantly weaker than most other uranium stocks in recent days so it will be interesting to see if it can reverse part of this trend tomorrow.
If not, then the 1.8 to 2.0 range may offer an attractive range for the stock to find more longer term support.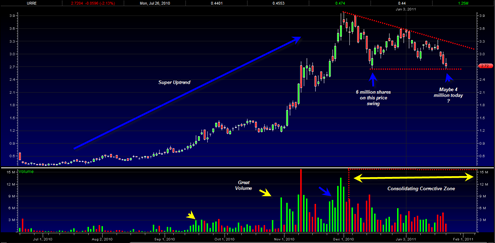 The chart of URRE shows that this uranium mining stock is definitely in a corrective price range with a declining slope trendline that defines a range of supply coming into the stock.  If URRE can manage to hold support, it may make another challenge of the topside down sloping supply line.
It would not be uncharacteristic for URRE to initiate some type of fast downward shakeout to the 1.8 to 2.0 range and then swiftly resume its longer term upward trend direction.