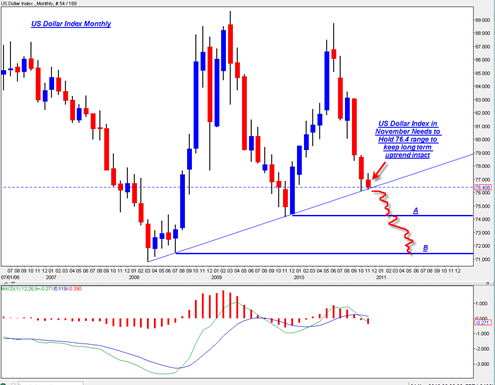 It seems pretty clear at this point that the Fed does not have a number one priority of supporting the US Dollar.  Today the dollar took another huge hit and seems to confirm the new theory I am now operating under that the recent bounce in the dollar index was a dead cat bounce and a simple consolidation that could lead to a new leg down.
The inverse correlation between the US stock market and the dollar is definitely not perfect, but I still think it is important.  The surge in the US Dollar index in late 2008 and early 2010 led to some HUGE downside moves in the stock market.  But the last 5 months in the dollar have shown a steep decline and a huge stock market surge again.
But now we see that the US Dollar index basis the monthly candlestick chart is perched right on the almost 3 year uptrend line.  This 3 year up trend line on the monthly chart is an important trend support.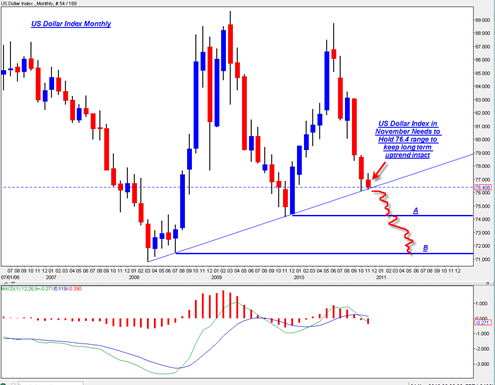 So far the November monthly candlestick has printed a higher low similar to what occurred in the December 2009 candlestick.  The US Dollar must hold this key support right here to keep it 'alive' above this 3 year support line.  Preferably the US Dollar must show some significant signs of strength during the next few weeks or it will warn that it wants to break down through support.
I am speculating that it will break below this support line which would open the door to a move to the horizontal line marked A.  Then if that support fails, a possible move to the final support area B which is absolutely crucial to hold.
The monthly MACD is in a bear market stance on the US Dollar Index right now and seems to support that idea that we will break down through support.
If this occurs it would support the idea of more upside for the US Stock market and probably also give the gold price a shot at 1500 to 1600.
The piece of evidence that would contradict a downside break of support right here is the current sentiment in the US Dollar which I believe is 97% bearish according to Elliottwave International.   I don't have the most recent sentiment reading, but the high bearish sentiment may delay any immediate downside breakout.
I think the US Dollar Index is worth watching closely as it would likely help bring more confidence to a bullish longer term US Stock market forecast as well as a continued gold bullish forecast into the end of year and perhaps early next year as well.