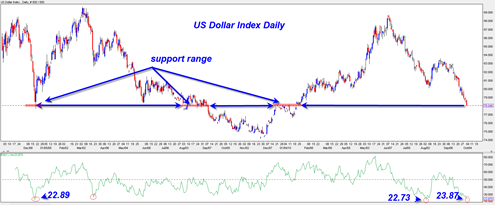 The huge market rally we saw in September was helped along by an almost totally collapsing US Dollar Index.  Now the US Dollar finds itself right on a supporting range and also at a deeply oversold RSI (Relative Strength Index) level.
This is important because if we are to expect the stock market to start a decline in October now it would certainly help to have the US Dollar get some type of upward sharp reaction to work off this oversold condition.  The market loved a collapsing dollar, but surely it would hate a dollar that spikes higher as well.
The RSI is now so deeply oversold and we are right on support that one would think the dollar should spike higher sharply as soon as Monday.  But looking at the chart history, in some cases after hitting support the dollar 'tip toed' in the supportive range for a few days before finally realizing it is stepping on solid ground.  So this may mean that the dollar will trickle lower for a few days next week into the supportive range before any sharp move higher.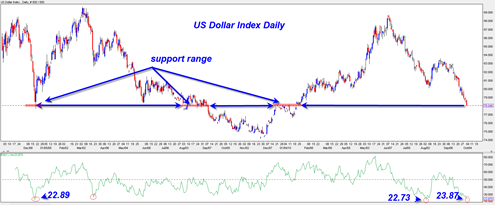 That slight trickle down into the supportive range may cause the stock market to ever so slightly 'trickle up' causing bears to doubt their convictions.
So I am going to have to watch the US Dollar Index next week very closely for signs it wants to bounce at this supportive range.  The extreme oversold level of the dollar index does give me more confidence in the risk reward of the short side of the stock market now and it may help me stay short even if the stock market decides to trickle up a bit more early next week.
So very key to keep an eye on US Dollar Index next week.
You can see it live here or with the UUP ETF.