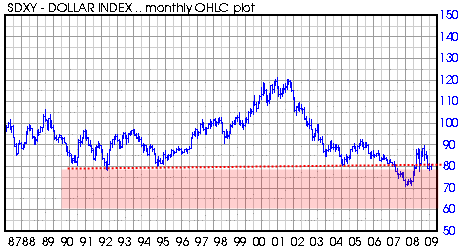 The US dollar index is barely holding onto crucial support at the 79 level.  This is a MAJOR story in my opinion and could have dramatic implications for several markets including forex, the broad market and gold.
The clear story with the US dollar in 2008 has been the MEGA bounce that it was able to achieve with the flight to safety trade and liquidation trade that was occurring all through 2008.  The US dollar was the 'least worst' currency in light of all the worldwide macro problems occurring then.  But now, with calmer heads prevailing and the US administration printing money and starting new programs like they will never go out of style, we see the US dollar once again weakening.  It has now fallen to the 79 range of support.
The 79 range of support is not a simple support, it is a very significant support that goes all the way back to 1990, clearly a significant length of time for a support level.
The support level was broken in 2007-2008 but then recovered as the mega bounce occurred.  In my opinion, in order for the longer term bullish case to remain we need to hold above the 79 level on the US dollar index. If we break down below there and into the red territory as depicted in the dollar chart above, then it implies a severe breakdown for the dollar and a test of the 70 to 72 level forthcoming.
The US dollar breaking down to the 70 level would be significant in several other markets. It could help the US broad market (DJIA, Sp500) continue its upward advance to its longer term down trendline as I have alluded to before.  It could also activate an ENORMOUS breakout upwards in the gold price.  Lastly it could give the Euro Currency some major fuel for a strong upwards run.  In fact the EUR USD looks very constructive right now and seems close to an upwards break of the 1.4200 level.
It is not too uncommon to see 100% retracements of rallies that occur from bear market bottoms.  So the super mega rally we saw on the US dollar must be taken with the perspective that it occurred from the depths of a persistent 7 to 8 year bear market in the dollar.  So a 100% retracement back down to 70 to 72 level would not be so unusual, and maybe even common.
Clearly a HUGE story developing with the US dollar! Definitely important to keep a close watch on this development. Stay tuned.