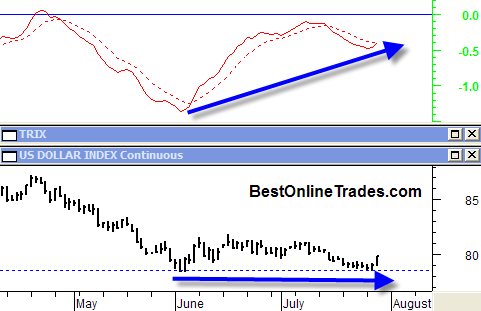 The US Dollar Index has elected to bounce off of support creating a short term double bottom.  The bounce has also created a bullish divergence which is now playing out and should allow the US Dollar to move higher shorter term.
In a previous post I was talking about how the US Dollar index was at crucial long term support and that it really needed to hold the 79 level.  A significant bearish decline could ensue with a downward break of the 79 level.  But so far the index had decided to evade this break of support and is now heading higher as a result of this moderate shorter term bullish divergence.
This is important for a couple of reasons.  For starters, there are correlations between the US Dollar Index and the broad market as well as the gold market.  They are not perfect correlations, but good enough.
I also did a recent post on how I thought the QQQQ's could be at a short term top and was looking for some bearish price moves into the end of this month and perhaps into early August.  This recent US dollar action bolsters that case in my opinion.
I think the key to watch for in the coming weeks is near the 81 level on this index.  That level comes near where we see longer term down trending resistance.  It just remains to be seen what can be accomplished near that level.  If a substantial break through that level occurs it may not bode too well for both the broad market and the gold market.  A break through the 82 level would be a confirmed break of down trending resistance.
So definitely something to keep an eye on in coming weeks. Stay tuned.