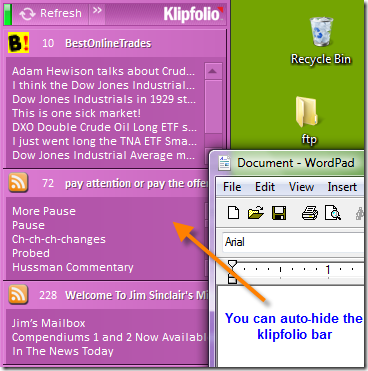 One of the easiest ways to follow and keep track of new content here at BestOnlinetrades dot com is by downloading a neat little free app called klipfolio.
I personally have been using Klipfolio for 5 years now and I still use it simply because it is one of the few things on my computer that does not 'fade away'.  There is so much information out there on the net these days that it really is difficult to keep track of it easily.  I keep stuff in klipfolio that I find the most valuable and klipfolio has a way of keeping your attention.
It allows you to at a very quick glance keep track of new material that is being produced and to keep more of your attention on it.  You can have it rest on the left side of your computer screen and make it AUTO HIDE so that it will only pop out when you move your mouse pointer over there and want to scan any new material you might be interested in!
To add BestOnlineTrades to Klipfolio here is all you need to do.
First, download the FREE klipfolio app right here at this link:
Click the big orange button that says download klipfolio personal dashboard
Secondly after you install the above app you just downloaded, you need to:

click on the +Add button.
Then look on your klip list for the following:

Then click on that "Add an RSS Feed" button and then enter the following in the box:
http://www.bestonlinetrades.com/feed/
Sweet! You are all set.
Enjoy…