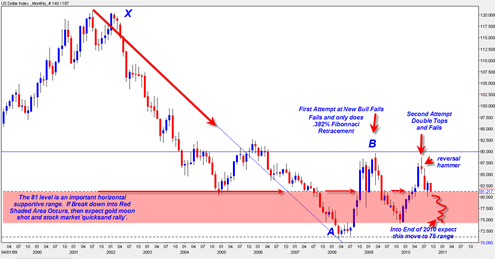 The second half of September that finishes up the monthly candlestick on the US Dollar index is going to be very important for several markets going into the end of the year.
The long term chart of the US Dollar Index shows that it had a very persistent decline from late 2001 into early 2008.  Since early 2008 the US Dollar index has attempted to retrace portions of the long 2001-2008 bear market, but up until this point it has only managed to achieve a .382 fibonnaci retracement which peaked out in early 2009 (the move from A to B was a .38% retracement of the X to A move).  The fact that the US Dollar Index has only managed to achieve a .382 retracement of its entire bear market tells me that there is internal weakness on a longer term basis and the long term path of least resistance favors more down.
Another attempt was made to bust through higher above the .382 level in July 2010 but failed.  This could also be looked at as a double top of sorts.
From that July 2010 top and monthly hammer reversal the dollar has once again started to cascade down and start to show more and more weakness.  The weakness is better understood in the context of the US Dollar Index head and shoulders topping formation identified here at BestOnlineTrades recently.  Right now the US Dollar index is perched right at the 81 level which is a very important level to hold based on previous monthly candlestick bodies.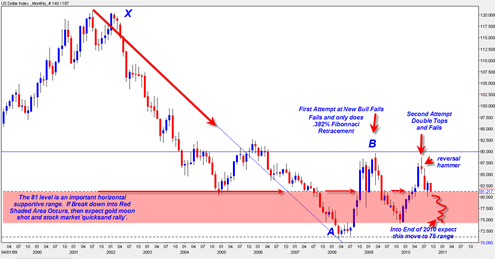 The head and shoulders topping formation projects the US Dollar Index to slightly under the 75 level which would put it at the bottom of the trading range and near some important monthly swing points.  I suspect this weakness will continue throughout September and then into end of year.
So why is this important?
I think it is important because it will likely send gold to 1500 and the stock market above the April 2010 highs.  But I believe that the gold move will be the real move and the stock market move will be real at first but then eventually run into the problem of the law of diminishing returns.  The stock market will be going up but at some point either higher inflation or higher interest rates are going to cause it to tread water and maybe transition it into a completely sideways to flat market.
The timing of these future events of course is something that still has to be ironed out, but this is how I see the big picture evolving right now. . .